Boeing confident of attack helicopter award
Report / Photos: SP's Special Correspondent
Location: Mesa, Arizona
Captions for all: A brand new AH-64D Apache Block III fresh off Boeing's production line in Mesa, Arizona.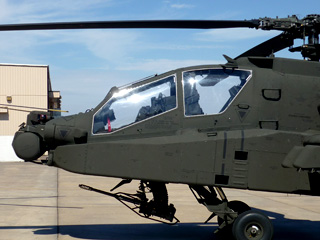 August 03, 2012: Boeing waits in the proverbial wings for what it hopes will be its next big contract from the Indian military—a lucrative deal for 22 new AH-64D Apache attack helicopters, all from the latest Block III and at least some of them armed with the formidable Northrop-Grumman/Lockheed-Martin AN/APG-78 Longbow fire control radar (one in three US Army AH-64Ds come armed with the sensor).
At this stage, if the IAF indeed has plans to award the contract to Boeing, it is unclear as to how many of the platforms will come with the Longbow radar. Trials conducted in India involved an AH-64D Block II with Block III components, including gearbox, fuel tanks, composite rotors, etc, in effect, a Block III but without the attendant avionics. There are also concerns about whether the fracas between the Indian Army and the Indian Air Force (IAF) over the use of armed helicopters has anything to do with the process slowing down, or a decision being deferred.
Sources indicate that the procurement is on course and a winner is likely to be announced before the year is out.