HAL unveils engine for Trainers, Biz Jets
By SP's Special Correspondent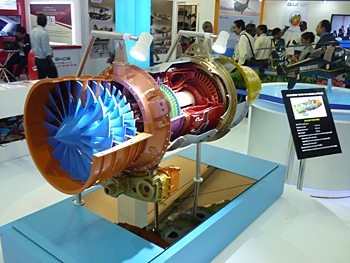 March 07, 2015: HAL's ambitions of entering the aircraft engine space in a meaningful manner have become clear now. While the development of high performance combat aircraft engines are being left to the DRDO's GTRE and its international partners, HAL has unveiled the HTFE-25 (Hindustan Turbofan Engine 25) that will be pitched to power trainer aircraft and business jets in the twin engine configuration. The 25 kN turbofan engine, slim in design, is 1,730mm long, 590mm in diameter and weighs 350 kg. The HTFE-25 is a low bypass twin spool mixed flow turbofan engine with wide chord fan blades, sports a high efficiency compressor and advanced combustor. The engine is controlled by full authority digital engine control (FADEC). The medium thrust engine could be pitched also for unmanned air systems of the future. The HTFE-25 is being developed as a fully in-house effort funded through internal accruals. HAL projects that the engine could be ready for operational service by 2018. The company has already begin testing waters abroad and in India for possible utilisation of the 25 kN engine, including with private players looking to build aircraft in the country.