Dassault-HAL parleys on to beat deadlock
By SP's Special Correspondent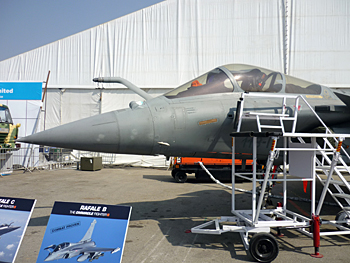 March 07, 2015: With PM Narendra Modi all set to visit France for the first time as prime minister next month, Dassault and HAL have begun negotiations to hammer out a liability sharing arrangement that could break the final hurdle to a contract for 126 Rafale fighters for the Indian Air Force as part of the M-MRCA programme. At a meeting between French and Indian delegations at the MoD recently, it was made clear that the RFP was the final word on the subject of liability, and that it clearly stated that liability for all aircraft would be on the original equipment manufacturer. The stumbling block has since distilled down, with the government now giving Dassault Aviation a list of options it can exercise in terms of formulating a joint liability understanding with HAL. Should this be achievable, the path to a contract would presumably be clear. However, there remains the issue of finance for the programme, though the political leadership has made it clear that the M-MRCA will be funded adequately. Dassault CEO Eric Trappier told journalists in France this week that the company had entered into successful negotiations with HAL and was in the process of finalising an understanding. Any such liability arrangement would be a first in India, and unlike any comparable programme. For instance, HAL owns the liability on its license manufactured Su-30 MKIs at Nashik, not Rosoboronexport. It remains to be seen what the details of the final arrangement will be.