HJT-16 Life Extension On Cards
By SP's Special Correspondent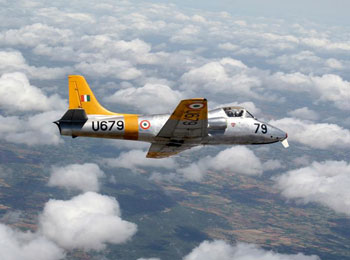 April 17, 2015: Faced with turbulence in its training regimen, the Indian Air Force may go in for a life extension on its remaining HJT-16 Kiran Stage-II trainer aircraft. With HAL's HJT-36 Sitara intermediate jet trainer failing to surmount design problems, a twin approach has been adopted. One, as earlier reported by SP's, the MoD has allowed the IAF to scout information on available Stage-II trainer platforms from abroad. The second thrust is a possible life extension of the Kiran fleet by HAL, for which the company has been sounded out and is in the process of charting out a proposal. Training of IAF pilots is currently conducted on the Pilatus PC-7 Mk-II, Kiran Mk-I/IA and Hawk AJT. Last month, Defence Minister Parrikar told Parliament, "The Pilatus PC-7 Mk-II and Hawk Mk-132 aircraft are new aircraft. Further, Kiran aircraft were planned to be replaced by the Hindustan Aeronautics Limited (HAL) built Intermediate Jet Trainer (IJT) aircraft. However, IJT has encountered some design problems. Project implementation is regularly reviewed by a Steering Committee headed by Secretary, Department of Defence Production to expedite the same. IAF is looking at other options including life extension of Kiran aircraft to meet Intermediate flying training requirements of pilots."