Parrikar Opens Door To Mini-MRCA
By SP's Special Correspondent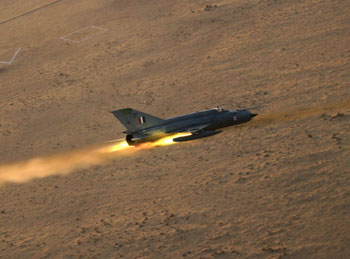 April 17, 2015: After the recent turbulence over the MMRCA, Defence Minister Manohar Parrikar has signalled the possibility of a separate single engine fighter jet platform replacing India's MiG-21s in the event that the LCA Tejas is not up to the task. In a comment (as part of an interview) that has dumbfounded observers still digesting the implications of the MMRCA's purported demise and the hard-nosed decision to purchase 36 flyaway Rafales directly from Dassault Aviation's French facility, aviation circles are aflutter with precisely what the Minister meant. With no complete clarity on the full numbers of Rafales India intends to operate, the possibility of yet another fighter type being added to the inventory (albeit replacing the legacy MiG-21 and the enormous nationwide infrastructure available for its upkeep) is intriguing to say the least. For one thing, it casts questions over the government's own confidence in the much derided LCA Tejas platform, an aircraft currently in its home stretch and expected to power into squadron service in the visible future. On the other hand, the suggestion that the LCA isn't up to the job and might need to be replaced by another aircraft for acquisition in high numbers could spark bemusement, if not interest, in firms like Lockheed-Martin and Saab for the F-16 and Gripen, the only two platforms in the M-MRCA that were powered by single engines. This could be an interesting space to watch.