DRDO to wrap up Nishant UAV project
By SP's Special Correspondent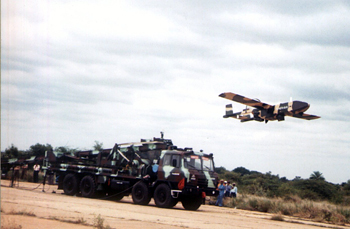 November 30, 2015: It's curtains for the DRDO's Nishant tactical surveillance drone programme, with the Army, the drone's only customer at the moment, deciding against a repeat order of upto 10 units from its maker. The Army, which inducted four of the drones for tactical surveillance and daylight photographic imagery in the Western desert sector, lost two Nishant drones in quick succession recently, though investigations are still on as to whether the accidents were caused by technical failure or malfunction. Either way, the Army has decided not to induct more Nishants, and is instead looking to purchase mini drones for which a procurement process has hung fire for years. With the Army pulling out of a potential follow-on deal, the Nishant Mk.1 will per force need to wind up. A wheeled version of the Nishant, designated Panchi, is currently under flight trials near Bengaluru, though it remains unclear if the Army or Indian Air Force is seriously looking at the platform. As SP's has reported before, all three services are looking to procure higher performance drones of the kind they already operate, and perhaps newer platforms. The Indian-built platform the services are regarding with greater interest is the Rustom-II medium altitude long endurance (MALE) unmanned air system that is still to conduct a first flight, and remains stuck in ground trials. Sources inform SP's that the Rustom-II may fly by early 2016 to coincide with the Defexpo show that will be held in Goa for the first time.