IAF For Indian EW Suite For Mi-17 V5 Fleet
By SP's Special Correspondent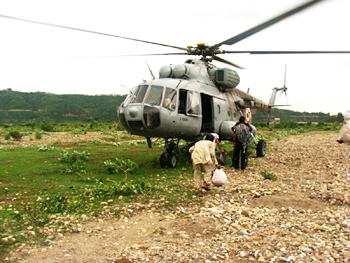 November 30, 2015: In a commitment towards Indian avionics and electronic technology that have made a global mark in recent years, the Indian Air Force has announced its intention to procure and install electronic warfare (EW) suites comprising Radar Warning Receiver (RWR), Missile Approach Warning System (MAWS) and Counter Measure Dispensing System (CMDS) on all Mi-17 V5 helicopters. Additionally, limited Mi-17 V5 would also be integrated with Laser Warning Receiver (LWR) and Directed Infrared Counter Measure (DIRCM). The proposals are invited from Indian vendors only, stipulates the request for information that is likely to be hotly contested by a raft of firms that have generated capabilities in this field through collaborations and organic research in recent years. With the V-5 variant of the workhorse Mi-17 cementing its position as the rotorcraft backbone of the IAF, the integrated EW suite is intended to provide crucial capabilities of intercepting, identifying, prioritising and displaying airborne and ground based threat from radars and missiles to the pilot and effectively provide self-protection to the helicopter against radar controlled weapon and IR seeking missiles by employing different counter measures (chaffs, flares, directed infrared, etc). The deployment of Mi-17s in hostile scenario, including India's 'Red Corridor' has spurred the need for greater survivability equipment and gear.