Russia Pushes Skat UCAV to India
By SP's Special Correspondent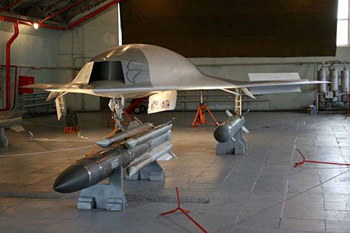 January 11, 2016: While there was plenty on the table when PM Modi visited Russia recently, a prestigious but little spoken of programme is back on the table in earnest. After BAE Systems, EADS, Saab and Dassault, the latest contractor now apparently ready to cooperate with India in UCAV technology is RAC-MiG. The company's discontinued Skat unmanned combat air system demonstrator. Currently, Russia's future UCAV platform is being spearheaded by Sukhoi with technology inputs from RAC-MiG, though sources indicate that Russia has sent feelers to India for possible cooperation in that sphere as well. The topline aviation partnerships between the two countries currently include the ongoing Su-30MKI license build in Nashik, the Fifth Generation Fighter Aircraft and the Multirole Transport Aircraft. In 2010, the Indian Air Force conducted an abortive campaign to procure UCAVs from the global market, ending up with a profusion of information, rather, on the systems available and what cooperation was possible. While no country was willing to sell systems outright — indeed, no systems are operational yet, except for the U.S.-built Reaper hunter-killer drones — several offers for cooperation were forthcoming. MiG is understood to be keen to partner with the DRDO in the AURO programme, or furnish fresh details on an outright cooperative arrangement on the Skat UCAV for the Indian Air Force.
Photo Credit: Wikipedia