By Lt. General P.C. Katoch (Retd)


Former Director General of Information Systems, Indian Army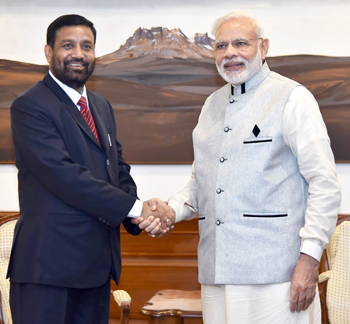 Deputy Prime Minister of Nepal, Bimalendra Nidhi calls on the Prime Minister, Narendra Modi, in New Delhi on August 20, 2016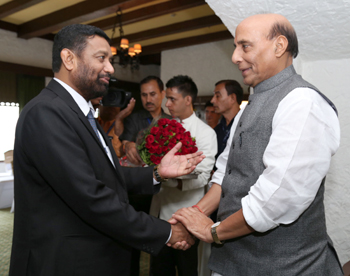 Deputy Prime Minister of Nepal, Bimalendra Nidhi meeting the Union Home Minister, Rajnath Singh, in New Delhi on August 19, 2016
Maoist chief Pushpa Kamal Dahal, also known as 'Prachanda', was sworn in as Nepal's 39th Prime Minister on August 4, 2016 after the CPN-Maoists party withdrew support to the Khadga Prasad Oli government. This is Prachanda's second tenure as Nepal's PM. He has two Deputy Prime Ministers; Krishna Bahadur Mahara with portfolio of Finance and Bimalendra Nidhi with Home portfolio. Oli was unable to resolve the turmoil within Nepal on account of Madhesi protests because of Nepal's new Constitution that put them at great disadvantage. Despite Madhesis being Nepalese nationals and despite India's complete support to Nepal, Oli kept on blaming India for the internal troubles of Nepal. Oli's meetings and assurances to Madhesis remained inconclusive and he was unable to control the unrest. After being elected, Prachanda has promised to lead the nation toward economic development while working as a bridge between communities. Bimalendra Nidhi, Nepalese Deputy Prime Minister holding the Home portfolio recently visited India as Special Envoy of PM Prachanda. Nidhi belongs to the Nepalese Congress. His four day visit here was the first high-level visit from Nepal to India after the new government took charge in Kathmandu in early August.
In India, he called on President Pranab Mukherjee and Prime Minister Narendra Modi, besides having discussions with External Affairs Minister Sushma Swaraj and Home Minister Rajnath Singh. To President Pranab Mukherjee, Nidhi reiterated President Bidya Devi Bhandari's invitation to visit Nepal. Nidhi briefed Prime Minister Modi about developments in Nepal. Modi told Nidhi that relations between India and Nepal were not merely between the two governments but between the people of the two countries and that India is committed to strengthening these traditional bonds of friendship and kinship with the people of Nepal. He also assured Nidhi that India is fully committed to support the government and the people of Nepal in the post-earthquake reconstruction efforts. Through Nidhi, Prime During the meeting, Prime Mnister Modi conveyed his greetings and best wishes to the new government of Nepal led by Prachanda and extended an invitation through Nidhi to new Prime Minister of Nepal Pushpa Kamal Dahal 'Prachanda' to visit India at the earliest while expressing commitment to strengthening traditional bonds of friendship and kinship.
In his meeting with EAM Sushma Swaraj, Nidhi apprised her about the priorities of the new government and appreciated India's goodwill and support to the peace process in the Himalayan nation. Swaraj noted that India attaches the "highest priority" to its relations with Nepal, and offered full assistance and cooperation for Nepal's economic development. Nidhi shared with Swaraj the vision and priorities of the new government, noting that implementation of the Constitution to promote political stability was a focus area.The Madheshi issue figured in the meeting and Nidhi conveyed to Swaraj that efforts are on to fulfill the demands of the community. He told Swaraj that priority of the new government was to take the Constitution and peace process forward by addressing all issues through a process of consensus building between all major political parties, and focusing on post-earthquake reconstruction efforts. During the meeting between Home Minister Rajnath Singh and Nepal's Deputy Prime Minister Bimalendra Nidhi a decision was taken for both to soon visit the Indo-Nepal border areas that had witnessed agitation by Madhesis over Nepal's new Constitution. Nidhi assured adequate steps to ensure security at Tribhuwan Airport in Kathmandu, from where terrorists boarded an Indian Airlines aircraft and hijacked it to Kandahar in 1999. In addition, Nidhi conveyed to Rajnath Singh: India is a very important neighbor and development in Nepal cannot be achieved without the support of India; his visit was primarily to "clear all misunderstandings" that cropped in the recent past between the two countries, and; Nepalese government has taken concrete measures including evolving consensus on constitutional amendments and certain measures enabling government or Cabinet to set up a Judicial Commission for giving suitable compensation to the affected people. While Nidhi was on the official visit to India, Nepal's Deputy Prime Minister and Minister for Finance Krishna Bahadur Mahara from the CPN-Maoist Party was visiting Beijing.
Nepal's need to strike a balance between her relations with India as well as with China is well understood. As per news from Nepal, in concert with the Indian mission in Kathmandu, Prachanda's visit to India is being planned for India beginning September 15. This will be the first foreign visit by Prachanda after taking oath as PM. Indo-Nepalese relations have undergone a bad phase in recent times. A new phase is beginning with both sides eager to better the ties. Prospects in this new phase look good with the forthcoming visit of PM Prachanda.
Photo Credit: PIB