By Lt. General P.C. Katoch (Retd)


Former Director General of Information Systems, Indian Army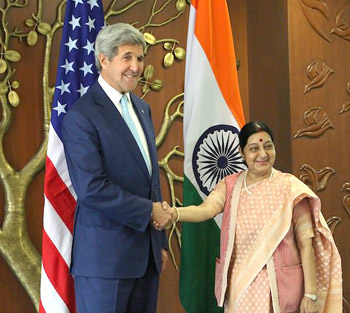 U.S. Secretary of State, Mr. John F. Kerry meeting with the Minister of External Affairs, Sushma Swaraj
Deliberations during the recent visit by US Secretary of State John Kerry is being hailed for delivering a blunt message to Pakistan, not to distinguish between good and bad terrorists, in the backdrop of Pakistan continuing to export terror and China openly backing for anti-India terrorists based in Pakistan. Kerry was visiting India to attend Second Indo-US Strategic and Commercial Dialogue.
External Affairs Minister Sushma Swaraj discussed the issue of cross-border terrorism by Pakistan with US Secretary of State John Kerry during the latter's recent visit. "We both agreed that a country (Pakistan) should not differentiate between terror as good or bad. Pakistan should withdraw safe havens provided to LeT, JeM and D-Company," Swaraj said after the meeting. Besides Pakistani terrorism, Kerry and Swaraj also focused on: carrying the civil nuclear cooperation between the two nations to another level for ensuring clean energy to many nations; cooperation in the field of health, particularly research and development of newer drugs aimed at developing and starting clinical trials of vaccines; more cooperation in space technology, and; making it easier for Indian travelers to enter US. Kerry and Swaraj signed a cyber framework to reduce cyber crime and improve coordination among the law enforcement agencies even as the US reaffirmed India as a major cyber partner. The two leaders also briefed each other on the developments in Afghanistan with Kerry appreciating India's efforts in the region.
Later in a press meeting jointly addressed by Sushma Swaraj and John Kerry, both nations reiterated their commitment towards strengthening Indo-US relationship. Swaraj made the following points: she had apprised Kerry of crossborder terrorism from Pakistan – there cannot be double standards in combating terrorism (there is no good or bad terrorism: Pakistan should withdraw safe havens provided to LeT, JeM and D-company; there is meeting of mind between the two sides (Indo-US) on the issue of terrorism; both countries agree that Pakistan needs to take swift action to catch perpetrators of 2008 Mumbai attacks and the Pathankot attack.
John Kerry made the following points: reiterated US commitment to bring perpetrators of these attacks to justice; there should be no double standards while looking at terrorism; he had talked to Prime Minister Nawaz Sharif and General Raheel Sharif to deprive any group (terrorist) of sanctuary, and; it is well known that LeT and Haqqani network have operated from Pakistan. Kerry hinted that the US is likely to join the global climate agreement soon. Responding to a question by the media, Kerry said, "US stands in strong partnership with India on Pakistan sponsored terrorism in India." Swaraj thanked Kerry for the constant support to India's membership to the Nuclear Suppliers Group (NSG), adding, "We have agreed to scale up our collaboration in clean energy and to quickly operationalise the various initiatives that were announced during Prime Minister's visit to facilitate investments in this sector from US into India."
Swaraj concluded by saying, "Overall, our meeting has contributed to our efforts to forge a closer partnership with the US in pursuit of our development goals and strategic priorities. We are certain that the India-US partnership will continue to benefit not only both our peoples but also become a factor for peace and stability in the region and the wider world."
It is no doubt that such blunt message has been given to Pakistan but how many times has such message been given to Pakistan and by whom. Certainly India, Afghanistan, Bangladesh have been accusing Pakistan for exporting terrorism and the US itself has been exhorting Pakistan to go after the terrorists, particularly the Haqqani network. It has not made much difference to Pakistan though the US has recently blocked the $300 million aid that was to be given to Pakistan.
Post the 26/11 Mumbai terrorist attack, Ashley Tellis of Carnegie Foundation had recommended to the US congressional committee in 2012, "The only reasonable objective for the United States is the permanent evisceration of LeT and other vicious South Asian Terrorist groups – with Pakistani cooperation if possible, but without, if necessary." Nothing, however, happened and Hafiz Saeed is as free a man despite two red corner notices by Interpol. In fact, as per Voice of America, Afghanistan officially told Pakisan recently that Hafiz Saeed, former LeT chief is directing ISIS attacks in Afghanistan. That Hafiz Saeed was backed by China even at the UN is well known.
John Kerry was on his last visit to India as US Secretary of State with US Presidential elections slated for coming November. What the stance of the next US President would be on Pakistan is yet to be seen. But certainly much harsher measures will be needed to force Pakistan stop exporting terror.
The views expressed herein are the personal views of the author.