By Lt. General P.C. Katoch (Retd)


Former Director General of Information Systems, Indian Army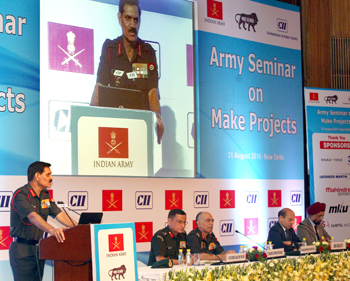 The Chief of Army Staff, General Dalbir Singh delivering the keynote address, at the Seminar on Make Projects, in New Delhi on August 31, 2016
Setting up of the Army Design Bureau (ADB) in August this year is a good step even though late by few decades. Its charter covered in this magazine earlier includes: act as central repository to technical know-how for the army; collate operational requirements from field formations for deliberations with DRDO-OFB-DPSUs, defence industry and academia; to assist formulation of GSQR and statement of cases; collate and brig to fruition innovations by field formations; subsume Army Technology Board and Simulator Development Division and adopt their charter; act as nodal point to integrate and synergize efforts of various category 'A' establishments having domain-specific centres of technological excellence; generate long-term research requirements for the Army and share same with DRDO and academia, and; assist in identifying various projects of DRDO and be single-point contact with it.
No doubt ADB has been established to decrease import of equipment but its emphasis requires to be more towards the private defence industry rather than the DRDO-DPSUs-OFB as it appears to be, given the dismal track record of the DRDO-DPSUs-OFB. Even cutting edge requirements items like small arms, bullet-proof vests, surveillance devices, unattended ground sensors, individual clothing of the foot soldier have either not been met or are of poor quality. The contracts for bullet-proof jackets and light helmets have had to go / will go to private sector, same as the Tactical Communications System (TCS) and the Defence Communications Network (DCN).
The DRDO-DPSUs have not made significant contribution in information systems either, the Army Strategic Operational Information Dissemination System (ASTROIDS) having failed miserably and the Artillery Command, Control and Communications System (ACCS) being 90 per cent Israeli. Globally, it is the private sector that is producing state-of-the-art defence equipment, not government run defence-industrial complexes that are generally mired in corruption and inefficiency. It is good to note that the Army has identified 10 projects under 'Make' category for manufacturing by domestic defence industry and is considering more such projects, for which the preliminary process is already on. At the same time, while the ADB has come into being there is need to look beyond and see what is happening in militaries of the developed world to draw lessons and deduce how these can be applied to our military. For example, while the Indian Army established the ADB in August 2016, the US Army has created the Army Rapid Capabilities Office (RCO) in the same month. RCO's purpose is to really look at urgent, immediate or emerging threats that are defined by the combatant commands that are believed to be critical in nature; to ensure that the capabilities of US forces supersede those of current and potential adversaries. The RCO reportedly is a consequence to the modernization in the Russian military that has resulted in exceptional cyber, electronic warfare, and anti-access/area-denial capabilities that have raised concerns in the US Army, particularly in the wake of Russia's 2014 intervention in Crimea and subsequent involvement in Syria.
According to Major General Walter E. Piatt, Director Operations of RCO, "What we saw is that even though we are the best trained and best equipped Army in the world, our adversaries and technology don't wait on our timetable". RCO proposes a team of experts for holistic solution and holistic assessment capabilities required and involvement of Army Training and Doctrine Command (TRADOC) being experts in doctrine, organization, training and leadership, as also Army Forces Command (FORSCOM) who will receive and undertake operational assessment of the equipment. Since armies are continuously evolving, RCO is to fill the gap that can meet tactical needs in the near term, but also help close a strategic gap, and move existing technology together so that soldiers don't have to look back over the shoulder. In nutshell, the RCO will enhance US Army's ability to confront emerging threats and improve the acquisitions process; it will improve Army's ability to provide troops what they need when they need it. Delivering the keynote address at the TRADOC Commanders' Forum on August 25, Secretary of the Army Eric K. Fanning placed special emphasis on joint warfighting, saying, "We are a joint force now. We rely on the Air Force. We rely on the Navy, but they all definitely rely on us….. Where that joint fight comes together in so many ways is on the ground with the Army. We need to think about that and talk about that differently than we do and really embrace what we do in support of the joint force that nobody else can do in our military or any of the militaries in the world". In India, the military can hardly claim 'we are a joint force now'. We have a long-long way to go.