By Lt. General P.C. Katoch (Retd)


Former Director General of Information Systems, Indian Army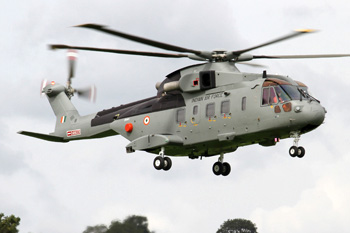 AW101 VVIP helicopters
Since December 2014, media was reporting that a new government policy legalising middlemen in arms purchases, a source of massive controversies in the past, would be in place soon. Defence Minister Manohar Parrikar had stated on December 31, 2014, "The middlemen have to be declared and their commission cannot be linked to the outcome of negotiations." The government had also been engaged in implementing nuanced blacklisting norms to replace the earlier indiscriminate ones. Middlemen or defence agents were banned for years after the multimillion-dollar scandal in the 1980s involving alleged kickbacks paid to politicians and officials in purchases. This move obviously was because of poor response to the regulatory role on agents that the Ministry of Defence (MoD) had acquired for itself in conjunction stringent guidelines issued in year 2001 that had proved counterproductive.
As for blacklisting, the Bofors ban had severely affected the artillery with shortage of spares and assemblies. In fact, during the Kargil conflict just 100 Bofors guns could be cannibalised from the 400 Bofors guns that had been imported. The equipping of armed forces suffered very badly during the decade-long tenure of A.K. Antony as Defence Minister because he would blacklist a firm at the drop of a hat — even based on an anonymous letter. The action of lifting of such blacklisting was not transparent enough. Recently, corruption in the AgustaWestland helicopter scandal had hit the media, the origin of which actually was in 2013 when Italian investigators arrested and incarcerated the company's Chairman, Guiseppe Orsi, on charges of bribing Indian officials to facilitate the sale by group company, AgustaWestland, of AW101 VVIP helicopters to India. This had led to the blanket blacklisting of the of Italian multinational, Finmeccanica.
The blanket blacklisting also placed a ban on the Finmeccanica affiliated companies of the Finmeccanica Group, which disrupted:
Purchase of 98 Black Shark heavyweight torpedoes for Indian Navy's Scorpene submarines from marine specialist, Whitehead Alenia Sistemi Subacquel (WASS).
Shipboard radar being fitted on the indigenous aircraft carrier, INS Vikrant, by Selex Electronics Systems (ES).
Purchase of anti-aircraft guns for warships from Otomelara.
Further procurement of AgustaWestland helicopters, two of which had already been procured before the blacklisting came into effect.
In 2014, Arun Jaitley, then Defence Minister, had issued tough interim guidelines for dealing with the Finmeccanica Group companies, which did little to help ease the problems in procuring torpedoes, shipboard radars, anti-aircraft guns as mentioned above. There was crying need to circumvent blanket bans on global defence conglomerates that that not only restricts the government's options in buying weaponry but also in the event of similar product not available from other sources, adversely affects modernisation of the military. Now government has approved a new 'blacklisting' policy during the meeting of the Defence Acquisition Council (DAC) chaired by Defence Minister Parrikar held on November 7, 2016. This policy is designed to tackle corruption better and will be officially announced in the near future. It not only lists out the method to deal with foreign firms but more significantly has done away with the system of 'blanket blacklisting'.
The new policy will have a focused product-specific ban, aimed at punishing the corrupt among the foreign suppliers and not hold to ransom the country's military and defence needs. This indeed is a welcome step especially at a time when a boost is being given to defence-industrial production in the country that would raise competition amongst companies. The new policy envisages that a person of a foreign company, if found to be indulging in corruption, will not be allowed to deal in another case of the company's subsidiary. According to MoD sources, while the new policy does away with blanket blacklisting of entire conglomerates, companies found guilty of violating norms, especially an "integrity pact" that forms a part of all defence contracts, can still be banned from doing business in India.
Under the new policy, AgustaWestland would be liable for blacklisting and financial penalties, while the group companies would be evaluated on merit. This policy somewhat mirrors the US policy of imposing tough financial penalties on companies found guilty of wrongdoing, rather than banning them from doing business altogether. What will happen in the event corrupt practices are discovered in single-vendor situations is perhaps yet to be examined. Nevertheless, the new blacklisting policy is a welcome step and needs to be promulgated straightway.
The views expressed herein are the personal views of the author.