| | |
| --- | --- |
| | The Author is Former Director General of Information Systems and A Special Forces Veteran, Indian Army |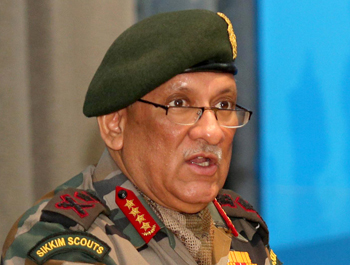 Indian Army Chief General Bipin Rawat
Speaking at the Raisina Dialogue at New Delhi on January 9, 2019, Army Chief General Bipin Rawat backed talks with the Taliban if they were ready for lasting peace in Afghanistan, saying, "There should be talks with Taliban so long as they don't come up with pre-conditions, so long as they are looking at lasting peace in Afghanistan and bring about stability in that country....It's in region's interest, and in Pakistan's interest. We all want stability". But he noted Pakistan had always "treated Afghanistan as its backyard" and wanted a situation that favours it in the war-ravaged country. With reference to terrorism, Rawat said it was transforming into a new form of warfare, will continue to grow like a multi-headed monster till nations continue to sponsor it as a state policy, and that a weaker nation was using terrorists as a proxy tool to put pressure on other nations to come to terms with it – without naming Pakistan.
Stressing that social media was increasingly being used to fan radicalizm through misinformation as well as generate financial resources for terrorism, Rawat said, "I think we have a lot to do with the media and the social media which must be controlled. If one particular nation starts controllong a particular media, it will taken as media rights are being curbed. Therefore, I think the international community must get together in ensuring that the source of social media is prevented from spreading false information and disinformation because a lot of funds are coming from people who are getting radicalised", adding, in Kashmir, for instance, youth were getting radicalised by a "lot of misinformation, disinformation and a lot of falsehood" on religion and other matters that they are getting through the social media. That is why more and more educated youth are being drawn into terrorism". Rawat's recommendation that India should be part of the bandwagon for talks with Taliban has much merit through this should have been the forte of successive Indian NSA's past decade and a half plus. It simply did not happen because of utter lack of strategic sense by governments of India. Despite multilateral forums like the Quadrilateral Coordination Group (QCG), US and China were having direct talks with Taliban – US in Doha, Qatar and China with Taliban delegations in Beijing. Afghanistan did not object to these direct talks not because it was in position to do so, but because the ultimate aim was national reconciliation. We did not even learn from the safety Chinese economic concerns China achieved by keeping Taliban on her side. But then we have continued with the flip-flop policy in respect of the Hurriyat in J&K, resulting in increased instability under the present government. Without backchannel dialogue with Taliban, we gave a free-hand to Pakistan to act against Indian interests in Afghanistan in conjunction Taliban and Haqqani network, latter being adjunct of Al Qaeda. After all, India was interacting with Taliban during Taliban rule in Afghanistan and Taliban even have former Afghan military officers who were trained and commissioned in India. Yet, India has reluctantly participated unofficially in Russia-led talks with Taliban in Moscow. Since July 2018, the US is again having direct talks with Taliban again through US President's envoys in Qatar, even as US maintains negotiations over political future of Afghanistan will be between Taliban and Afghan government. Taliban was seeking free movement in two provinces (rejected by Afghan President) and US continued military bases in Afghanistan. Pakistan recently released Afghan Taliban's former deputy chief Mullah Abdul Ghani Baradar after eight years in jail on request of Qatar.
Trump's Special Envoy to Af-Pak, Zalmay Khalilzad is leading an interagency delegation to several countries from January 8 to 21, seeking help from all to facilitate an intra-Afghan political settlement. In India, Khalilzad is to discuss US plans for withdrawing troops from Afghanistan, following a telephone conversation between Prime Minister Narendra Modi and President Trump, where both discussed stepping up cooperation in Afghanistan. Trump has urged India to go beyond its existing role in supporting infrastructure development in Afghanistan. Trump has ordered withdrawal of up to half of the roughly 14,000 American troops in Afghanistan.
As of 31 July 2018, the Afghan government controlled only 56% of the country while control of 32% is contested according to the America's Special Inspector General for Afghanistan Reconstruction. But the Taliban are explicitly clear that they: don't believe in the Afghan Constitution; don't believe in democracy; want all foreign troops out of Afghanistan, and; will not lay down arms. Soviet occupation of Afghanistan had raised fears of their expansion to the Persian Gulf. Both US and China trained and armed the Afghan Mujahideen to oust the Soviets; US did so through Pakistan, but China shifted Mujahideen training camps from Pakistan to Xinjiang in China. Presently, Taliban influence in Afghanistan is rising with support from Pakistan, China, Russia and Iran. Economic mess doesn't mean Pakistan will stop exporting terror. Most Afghans are desperate for better lives, jobs, education and end to the war with the Taliban but bringing Taliban around may remain a chimera. Two things appear certain – Taliban may talk to humor Americans but won't change above mentioned stance, and Afghanistan is in for continued instability in foreseeable future unless Taliban are given reins of the country. All this doesn't mean India should not talk to Taliban. As to the other issues of Pakistan sponsoring terrorism and exploiting social media to radicalise youth of J&K mentioned by General Rawat, this has been the case past many years and part paralysis by India has aggravated the situation. We need to be much more active ourselves rather than banking mainly on strategic partners. The military calls the shots in Pakistan, not Imran Khan. And, Pakistani military trying its level best to mainstream terrorists and radical organisations, is unlikely to change course.