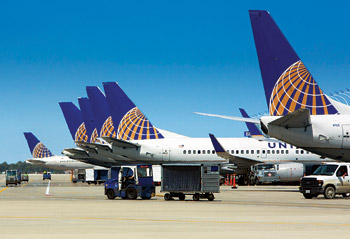 United Airlines took the airline industry to a new low when a passenger, Dr. David Dao, was knocked out and then dragged off an overbooked flight. Security officials unseated the paying passenger and dragged him through the aisle in a violent manner that has sparked worldwide anger against United for its practice.
Flight 3411 from Chicago O'Hare Airport for Louisville, Kentucky, was overbooked because the airline needed to transport four employees to Louisville. Airline representatives asked for four volunteers to exit the plane in exchange for a free hotel stay and $400 to take the next day's 3 p.m. flight. When no one took United up on the offer, they upped the cash reward to $800, but there were still no takers. And then United randomly selected passengers to offload.
The first people selected were a couple who politely exited the plane. The next man chosen refused, claiming he was a doctor that needed to see patients the next morning. According to passengers, the man became very upset, and said he was calling his lawyer. After two security officers asked the man to leave, he still refused. A third security officer pulled the man out of his seat, bashing his head on an armrest, allegedly knocking him unconscious. His limp body was then dragged down the aisle and off the plane. Horrified passengers gasped, screaming "This is wrong!" and "Look at what you're doing!" while multiple people recorded the altercation on smart phones.
The CEO of the airline subsequently apologised after issuing a statement on the company's process. The CEO has been shamed. Meanwhile, the passenger has filed a case against United Airlines asking the court to direct the airline to preserve surveillance videos, cockpit voice recordings, passenger and crew lists, and other materials related to United Flight 3411. The Chicago Aviation Department subsequently has placed three officers on leave.