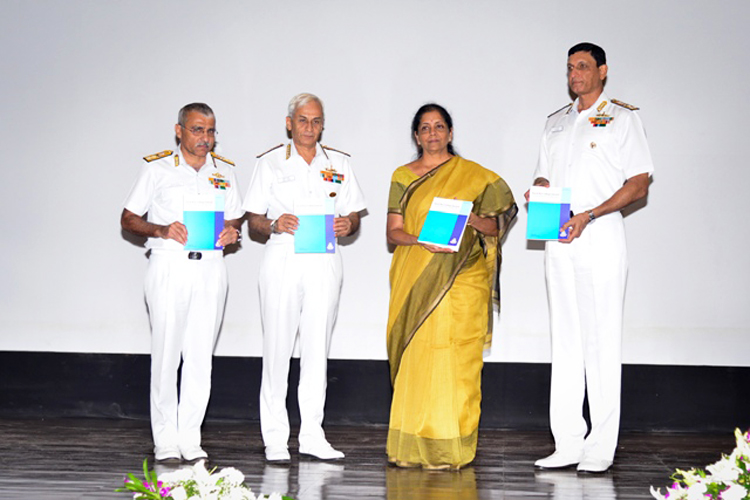 Inaugurating the Goa Maritime Conclave (GMC), the Minister of Defence, Nirmala Sitharaman said that it aimed to bring together like minded nations to evolve and formulate collective responses to challenges in the maritime domain. It would also provide an opportunity to communicate India's viewpoints and collectively shape a favourable maritime environment for countries in the region.
The November 1 conclave on 'Regional Maritime Challenges' saw speakers such as Admiral Arun Prakash (Retd), Admiral Dr Jayanth Colombage (Retd) of Sri Lanka, Admiral Md Khurshed Alam of Bangladesh, Professor Ashley J. Tellis, Dr C. Raja Mohan, Professor Harsh V. Pant and Dr Christian Bueger.
The Minister said that the Indian Ocean region (IOR) has progressively gained centre-stage largely due to the political impact of its regional dynamics on international geo-politics. The future of the world will be shaped, to a large extent, by the political and economic interactions between the stake holders in the IOR.
She added "On land, the unresolved borders and riparian disputes which are predominantly a legacy of the colonial era are some of the key causes of conflict. Further, this impasse in international relationships, is a product of many causes such as ideological differences, political insecurities, economic dependency, technological dependencies, inequitable access to resources, geographical imperatives etc. The net impact of these differences is that trust deficit and tensions between nations continue to persist, on account of perceived challenges to sovereignty, despite positive economic interactions between them. As international behaviour in the maritime medium is influenced considerably by land based imperatives, cordially or latent hostility prevalent amongst countries on land tends to be reflected in the seas."
She said the GMC should evaluate the impact of emerging maritime security architectures on overcoming maritime security challenges; sort out differences; capitalise on commonalities; tap intellectual capital and evolve customised solutions rather than imported solutions.
Admiral Sunil Lanba, Chief of the Naval Staff said that there is a perceptible lack of formal arrangements with respect to engagement between littoral navies of the south and south eastern IOR and the GMC aimed at bridging this gap. There was need for creation of comprehensive infrastructure, equipping the force with technology and investing in quality training while exercising financial prudence. Making large and long term financial commitments to counter specific threats from perceived adversaries may not necessarily yield the desired results in the future, hence it would be wiser to adhere to long term plan which is underpinned by a clear assessment of desired capabilities.