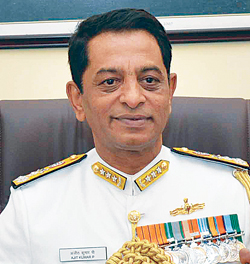 Vice Admiral Ajit Kumar P. AVSM, VSM has assumed charge as the Vice Chief of Naval Staff from Vice Admiral Karambir Singh who proceeds to Visakhapatnam to take over as Flag Officer Commanding-in-Chief Eastern Naval Command.
Vice Admiral Ajit Kumar P. is an alumni of the National Defence Academy. The Flag Officer was commissioned in the Indian Navy on July 1, 1981, and is a specialist in Missiles & Gunnery. The Flag Officer has had extensive operational tenures onboard frontline warships of the Indian Navy. He has had the distinction of having commanded six seagoing platforms which include the guided missile corvette Kulish (commissioning), the guided missile frigate Talwar, the guided missile destroyers Mumbai and Mysore. The officer has done the Naval Higher Command Course and is also an alumni of the Naval War College, Newport, Rhode Island, USA.
He was promoted to Flag Rank in September 2009 and as a Rear Admiral, his assignments included Assistant Chief of Personnel (HRD) at Naval HQ, Flag Officer Commanding Eastern Fleet (FOCEF) and Chief of Staff of Southern Naval Command. On promotion to the Rank of Vice Admiral on December 1, 2013, he was appointed as the Commandant of the Indian Naval Academy, Ezhimala and thereafter has completed two joint service tenures as Principal Staff Officer at Headquarters Integrated Defence Staff.