President of India Honours HAL with 'SCOPE Meritorious Award'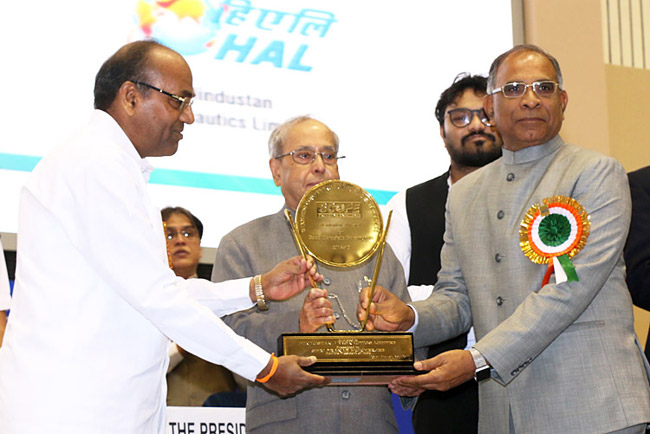 Mr T Suvarna Raju, CMD, HAL receiving the 'SCOPE Meritorious Award 2014-15 for Corporate Governance' from Mr Pranab Mukherjee, President of India in the presence of Mr Anant G. Geete, Minister of Heavy Industries & Public Enterprises (extreme left), Mr, Babul Supriyo, Minister of State for Heavy Industries during Public Sector Day celebrations in Delhi on April 11, 2017
April 11, 2017: HAL has been conferred with 'SCOPE Meritorious Award 2014-15' for Corporate Governance. Mr Pranab Mukherjee, President of India, presented the award to Mr T Suvarna Raju, CMD-HAL today at New Delhi coinciding with the 'Public Sector Day celebrations'.
"I am happy to receive the prestigious award on behalf of HAL and its employees who are committed to the Company's growth and excellence. We will continue to maintain and enhance the highest standards of Corporate Governance we have set for the organization", said Mr T Suvarna Raju, CMD HAL.
Mr Anant G. Geete, Minister of Heavy Industries & Public Enterprises, Mr Babul Supriyo, Minister of State for Heavy Industries and others were present on the occasion.
HAL complies with the Corporate Governance guidelines framed by the Department of Public Enterprises (DPE) and works for the optimum benefits of its stake holders. The policies and procedures of the Company are constantly reviewed and updated to ensure transparency in all aspects of the Company's working.
Photo Credit: HAL