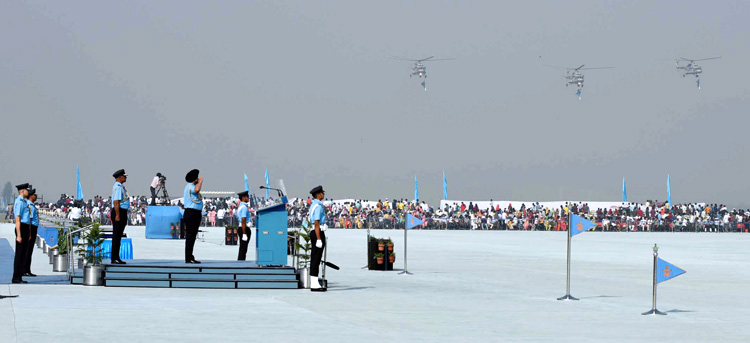 The Chief of the Air Staff, Air Chief Marshal B.S. Dhanoa on dais during the Air Force Day Parade, at Air Force Station Hindan, in Ghaziabad on October 8, 2018.
Marked by the fly past of military aircraft, grand parade cum Investiture Ceremony by the men and women in blue, Indian Air Force (IAF) today celebrated its 86th annual day. Air Chief Marshal BS Dhanoa, Chief of the Air Staff, reviewed the parade at the Air Force Station Hindan (Ghaziabad).
The parade was followed by a display by the Air Warrior Drill Team, wherein they showcased their weapon handling skills and diverse maneuvers with their rifles. There after came a scintillating air display by various aircraft of the IAF.
President Ram Nath Kovind, supreme commander of Indian forces, in his message to IAF, said, "On Air Force Day, we proudly honour our air warriors, veterans, and families of the Indian Air Force. They safeguard our skies with courage and commitment. The resilience, tenacity and zeal of our valiant air warriors is a source of pride for every Indian."
Saluting the air warriors and their families, Prime Minister Narendra Modi in a message said, "A grateful nation salutes our valorous air warriors and their families on Air Force Day. They keep our skies safe and are at the forefront of serving humanity in times of disasters. Proud of the Indian Air Force."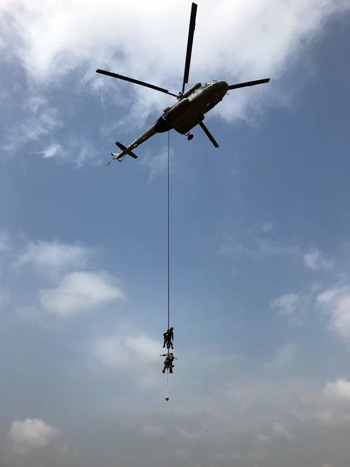 Minister of defence Nirmala Sitharaman also greeted the air warriors and said, "You are inheritors of a great history and you do us proud."
The IAF came into existence on October 8 when IAF Act (No.XIV of 1932) was passed by the Indian Legislature and received the assent of the Governor General (British India) on this day.
"In the last eight decades, IAF has technologically evolved and grown in strength to thwart any threat to the nation. It is committed to safeguard the Indian skies and has played a key role in providing assistance to the people of the country during any natural calamity. Professionalism displayed by air-warriors during various international exercises reaffirms IAF's ability to be an effective net security provider," IAF said in a statement.
The air display commenced with flag bearing sky divers of famous Akash Ganga Team, who jumped off from an An-32 aircraft transport aircraft. In the flypast Russian origin Mi-17 V5 and indigenous Rudra helicopters (weaponised Advanced Light Helicopter Dhruv), Hindustan Aeronautics Limited's Dornier, the American C-130J and C-17 transport aircraft participated. From the fighter fleet, deep strike aircraft Jaguar, along with MiG-21 Bison, MiG-29, Mirage-2000 and SU-30 MKI fighter aircraft took part. Dakota, Tiger Moth and Harvard of the IAF vintage flight also participated in it.
Thereafter, the home made Light Combat Aircraft Tejas carried out aerobatic display to show case its air maneuverability.
During the celebration, apart from aircraft, the IAF's Garud commandos equipped with state-of-the-art weapon systems, specialist equipment and gears spell bound the audience with their skills.
Surya Kiran Aerobatic Team (SKAT), formed in 1996 with Kiran trainer aircraft and has performed in eight countries with over 500 displays till date, comprising of nine Hawk 132 advanced jet trainer aircraft, "performed spectacular nine aircraft horizontal display and daring crosses, and the Helicopter aerobatics team, Sarang enthrall(ed) the audience with breath taking formation aerobatics display."
The first Hawk SKAT display took place on Air Force Day 2015. It is the only nine aircraft team in Asia.
Glimpse of the Air Force Day Parade, at Air Force Station Hindan, in Ghaziabad on October 8, 2018.