Nearly 100 systems have been soldsince the T-STAMP-XR was launched in June 2017, thanks to itshigh level of DRI (Detection, Recognition and Identification) capability and stabilization.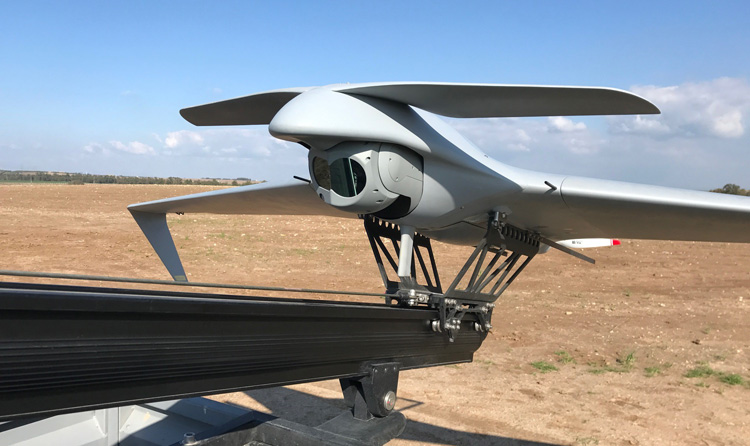 CONTROP USA Inc - a subsidiary of CONTROP Precision Technologies Ltd. specializing in electro-optics and IR defense and homeland security solutions– is demonstratingitsrecently-introducedT-STAMP-XR at AUVSI XPONENTIAL 2018 in Denver.
Weighing only 3.5kg, the T-STAMP-XR includes a cooled thermal imaging camera with extremely narrow Field-of-View, and outstanding gyro-stabilization, enabling superb day and night surveillance capabilities on small UAS. This newest member of the CONTROP STAMP family also has a high sensitivity HD day camera and an optional laser designator or laser pointer.
"Since launching the T-STAMP-XR at the2017 Paris Air Show, we have sold almost 100 systems," says Mr. Hagay Azani, CONTROP's VP Marketing and Sales. "It has exceeded all our expectations to become one of our most popular UAS payloads, and we expect many more orders in the coming months."
TheT-STAMP-XR's built-in INS on the Line-of-Sight provides precise and accurate target coordinates, geolocation, hold-to-coordinate and point-to-coordinate capabilities. Additional features include onboard automatic video tracker, image enhancement, local automatic gain control (AGC), picture-in-picture (PIP), digital video output, and optional H.264 video output. The T-STAMP-XR enables tactical interoperability with other platforms in the theatre, and has low lifecycle costs, due to a unique and high endurance cooled TI detector.
"An ultra-small low SWaP payload, the T-STAMP-XR can provide the optical performance of much larger payloads, significantly saving operational resources," continues Azani. "It also has the highest level of stabilization, thanks to its three-gimbal configuration, making the use of Laser Designation a feasible option."
STAMP is a family of gyro-stabilized miniature payloads, especially designed for day and night tactical over-the-hill reconnaissance missions on small aerial platforms. Lightweight yet ruggedized, STAMPs provide precise geolocation and can withstand high-shock landings. With low power consumption, theyare made up of only one LRU and provide the most cost-effective solution of their type for small manned and unmanned systems.