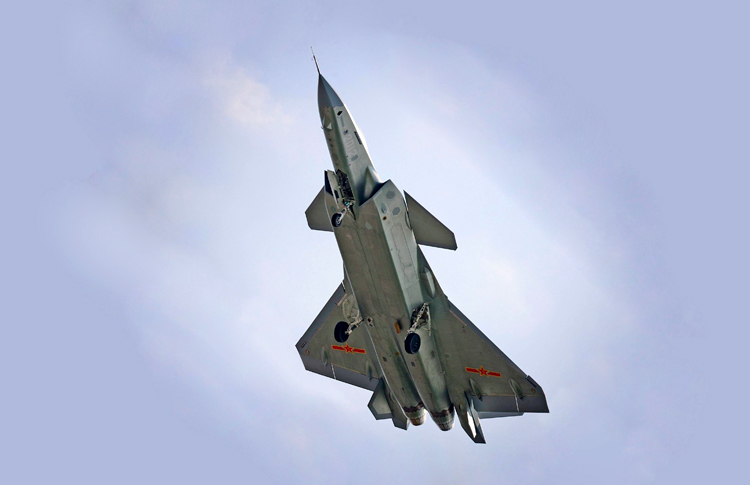 J-20
China, on February 9, commissioned its first stealth fighter aircraft in People's Liberation Army Air Force (PLAAF), reports Chinese state-run news agency Xinhua. This makes China the second nation after the United States to have a homemade operational stealth fighter aircraft. This is a big development as China can now field its stealth fighter in the Indo-Pacific region against the US and Japanese stealth F-35.
Quoting a spokesperson of the PLAAF, the agency reported that the J-20 will comprehensively improve Chinese Air Force's fighting capabilities. In the recently concluded Red Sword 2017 exercise, conducted by PLAAF in Tibet, saw the first operational deployment of this aircraft.
Reportedly, the air superiority aircraft is expected to join the 9th Brigade (PLAAF), which is deployed facing South China. J-20 is expected to fly together with Russian made PLAAF's Su-35 fighters, which were ordered by China in 2015. China paid $2billion for 24 Su-35 and the order was delivered by Russia by 2017.
The J-20 is a fourth-generation fighter jet. It made its maiden flight in January, 2011 and was first shown to the public at the 11th Airshow China in Zhuhai, Guangdong Province, in November 2016.
Unlike other stealth fighters, which are considered as fifth-generation, J-20 is fourth-generation meaning the Chinese have developed a stealth aircraft with fourth-generation technologies. This appears to be a kind of short-cut in stealth manufacturing, but nevertheless it poses a new kind of challenge for China's adversaries. China is also developing another stealth fighter FC-31/ J-31.