Result will help pilots modify flight plans to reduce or mitigate sonic boom impacts
Display combines synthetic vision, terrain awareness and weather data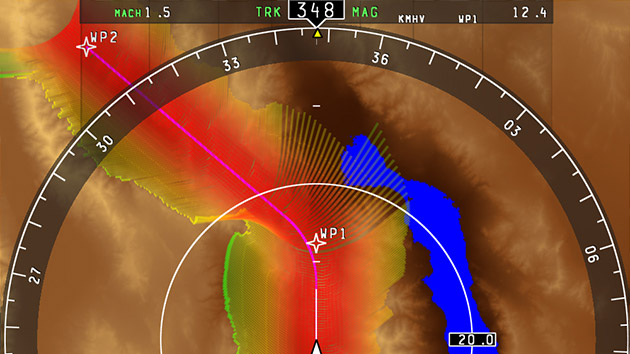 Rockwell Collins recently teamed with the National Aeronautics and Space Administration (NASA) to demonstrate its Sonic Boom Display at the NASA Armstrong Flight Research Center. The usability demonstration and pilot working group meeting marked a major milestone in the two year project. The Sonic Boom Display project is expected to be completed this March. The resulting sonic boom impact visualization will help pilots modify flight plans to reduce sonic boom impacts or mitigate it all together.
"Important to our progress in reducing the sonic boom impact over land is to have a predictive sonic boom display in supersonic aircraft cockpits that ensures our future quiet supersonic aircraft remain below acceptable noise levels," said Brett Pauer, NASA Commercial Supersonic Technology subproject manager at Armstrong Flight Research Center. "We have collaborated with avionics companies like Rockwell Collins to translate our NASA algorithms into an integrated avionics system that is tested and evaluated by pilots."
The team leveraged NASA's cockpit interactive sonic boom display avionics algorithm, and implemented the capability to utilize a worldwide terrain database to predict where the sonic boom would impact the ground, and at what sound pressure levels. The prototype is installed in NASA's laboratory and is designed to be integrated into any business jet avionics.
"The Sonic Boom Display project is a great example of applying advanced flight deck technology, human factors research and pilot community engagement to provide supersonic situational awareness," said John Borghese, vice president of Rockwell Collins' Advanced Technology Center. "As a result of this research, we will be able to alleviate noise concerns affiliated with supersonic travel by giving pilots the ability to control boom placement away from populated areas."
The Sonic Boom Display was developed by integrating state-of-the-art synthetic vision technology (SVT) and a terrain awareness system (TAS), with future plans to integrate data from Rockwell Collins' ARINCDirect weather services.
Next steps for the Sonic Boom Display are to implement a flight planning and guidance application, in addition to any defined noise standards.