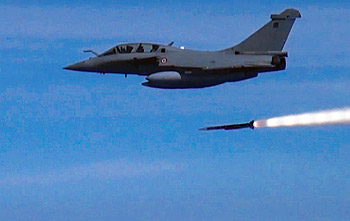 On April 6, teams from the French Defense Procurement Agency (DGA), Dassault Aviation, MBDA and Thales successfully completed the final guided firing (integration flight test) of the Meteor long-range air-to-air missile against an air target from a Rafale omnirole combat aircraft.
This firing, from a Rafale prepared at the DGA Flight Testing (Cazaux Test Center), proceeded within a secured zone of DGA Missiles Testing (Biscarrosse Test Center). The Meteor successfully engaged and destroyed at a very long-range a high-speed air target (Mirach) simulating an evading fighter aircraft.
This fifth, global, firing completed the full integration flight testing campaign of the Meteor air-to-air missile onto the Rafale omnirole combat aircraft.
Since the first test on April 28, 2015, this campaign, conducted smoothly and uneventfully, demonstrated and confirmed superior performances than those expected at the inception.
Thanks to the extended range capability of its RBE2 AESA (Active Electronically-Scanned Array) radar, the Rafale equipped with the Meteor will be able, from 2018, to intercept targets at very long range, when the MICA (RF/IR) missile will complement this truly impressive air-to-air capability, both for combat interception and self-defense.