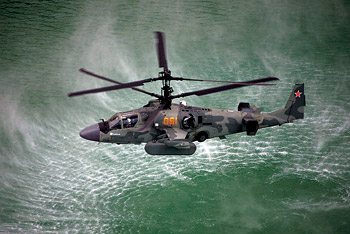 Ka-52K helicopters manufactured by Russian Helicopters holding company (part of Rostec State Corporation) completed the first phase of testing in marine conditions. The machines are currently in the premises of Kamov Design Bureau where specialists finish assessing the condition of helicopters and their components after performing tasks in harsh climatic conditions.
Two Ka-52K helicopters were tested during the period from late 2016 to early 2017. After performing the tasks set by commanders the tests of helicopters were recognised successful. The machines have already been handed over to engineers of Kamov Design Bureau for conducting additional study of the work of a helicopter and its individual units, as well as for making changes considering possible requirements.
"Ka-52K helicopters completed the first phase of testing in marine conditions, after which it can be concluded that the machines may be placed on an aircraft cruiser and successfully complete their tasks. The helicopter has unique properties; however, one test in the sea is insufficient for understanding the work of its engines, units, avionics, control and armament systems in maritime climate. The design bureau will continue its work as part of tests including those on the aircraft cruiser," said Deputy CEO for Sales of Russian Helicopters holding Vladislav Savelyev.
The Ka-52K helicopter is another machine in the range of 'maritime' helicopters developed by Kamov Design Bureau and adopted by the Russian Navy.