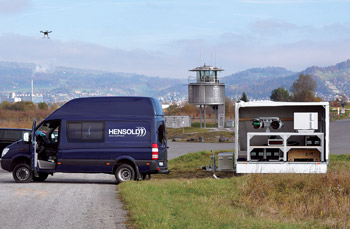 Hensoldt, the new sensor house, has entered into a collaboration in the area of counter-UAV with sensor provider Squarehead Technology AS, Oslo. At Xponential, Dallas/Texas, HENSOLDT signed a collaboration agreement with Squarehead which adds its acoustic sensor Discovair to Hensoldt's Xpeller counter-UAV portfolio.
"Together with our partners, we have created a modular counter-UAV system which is extremely effective", said Thomas Müller, CEO of Hensoldt. "Xpeller demonstrates Hensoldt's innovative capabilities, answering our customer's needs to detect and protect from new threats. Due to its versatility, Xpeller is able to offer maximum protection under a variety of conditions and ranges". "We are excited to see how well our sensor is received by the integrator industry, and are very sure Hensoldt's integrated system will benefit greatly from the use of it. The collaboration is a major sensor-fusion combined effort, proving that acoustics will remain a cornerstone of the drone detection industry – with our unique sensor array at the heart of it", says Stig Nyvold (CEO) of Squarehead Technology AS.
Xpeller offers very high effectiveness by combining sensor data from different sources with latest data fusion, signal analysis and jamming technologies.