Single-bid Situation for Indian AWACS Project
By SP's Special Correspondent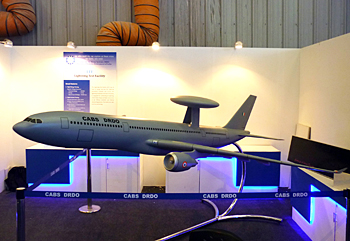 March 07, 2015: While the Defence Ministry mulls over the next step in the crucial Indian Air Force HS748 Avro replacement programme, the DRDO has been presented with a somewhat similar situation on its Airborne Warning & Control System (AWACS) project. Releasing a tender last year for a requirement of six modified aircraft to carry a 10-metre radome, the DRDO has received a bid only from Airbus for the A330 widebody platform. Boeing Corp. which had also received the RfP is reported to have declined participation as it felt any AWACS project required a certain lead time for modifications and incremental technology build-up, and that this was not built into the RfP. Airbus, on the other hand, which had been the original choice (following the IAF's choice of the Airbus A330 multirole tanker transport), believes its platform fits with the Indian requirement. Sources at Airbus said the company was willing to work closely with DRDO to discuss the programme and take it forward. Sources said the company, apart from being a potential supplier of the aircraft platform, was also in talks with DRDO to consult on other aspects of the project itself from an ab-initio stage. While the radome for first stage testing is under fabrication at the Centre for Airborne Systems in Bengaluru, the DRDO will be looking for technological tie-ups for the programme, vastly more complex than the successful AEW&C programme that will be coming to fruition this year with Embraer.