HAL Light Utility Helicopter first flight in August
By SP's Special Correspondent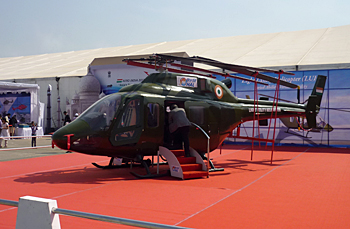 March 07, 2015: HAL's Light Utility Helicopter is all set to undertake its first flight from the HAL Airport in Bengaluru in August this year. A mock-up displayed at last month's Aero India show in Bengaluru has attracted interest from several countries, with delegations at the show requesting to be kept updated on progress of the platform to support future requirements in those countries. HAL's LUH project director K. Mahabaleshwara Bhat was a busy man at the show, hosting several interested military delegations inside the cabin of the olive green liveried LUH mock-up in the central forecourt of the show's display area. The LUH is being developed keeping in mind several key lessons learned on the Dhruv programme. The LUH, being developed with skids undercarriage will also be spun off in a wheels version. It is also being developed with foldable rotors (the entire operation takes 10 minutes to complete) -- a key lesson learnt on the Dhruv programme, to make it acceptable to the Indian Navy for shipborne roles. Future builds of the Dhruv, incidentally, will sport the foldable rotor system perfected on the LUH and offered afresh to the Indian Navy. The Dhruv currently only functions from shore. The LUH is being developed to meet a requirement of 187 helicopters (the remaining 197 will be through the new Make in India RSH programme).