Terror Spurt Revives Infantry Modernisation Push
By SP's Special Correspondent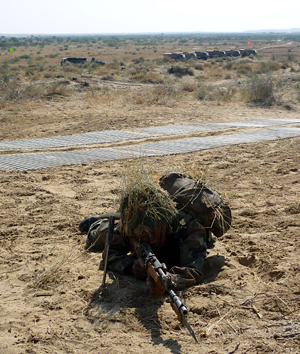 January 11, 2016: The atmosphere of terror threats in the shadow of the Pathankot attack and continued threats along the LoC — including intermittent ceasefire violations — has heightened awareness of slow progress in infantry modernisation in the country. The Army's Infantry Directorate has called for a meeting to speed up the erstwhile F-INSAS programme to provide infantry units with more integrated battlefield equipment. Tensions on the LoC have seen the use of hand-held thermal imagers and other equipment, but the Infantry Directorate of the view that far greater pace of modernisation is desirable towards a much more prepared soldier deployed in the forward areas. According to sources, apart from primary weapon and survivability modernisation, the Infantry Directorate is keen to shore up situational awareness and night-fighting equipment augmentation for soldiers, starting with those in Rashtriya Rifles and Special Forces units, and then to other regular infantry units. The coming weeks are likely to see a slew of fresh expressions of interest pertaining to the F-INSAS programme. The Pathankot attack has also drawn renewed focus on airborne thermal/nightvision sensors, peripheral wall sensors and other electro-optical equipment of a newer generation to shorten the sensor-shooter loop at sensitive establishments on the terror radar.
Photo Credit: SP's Special Correspondent