Army For New 30mm Ammunition For Infantry Vehicles
By SP's Special Correspondent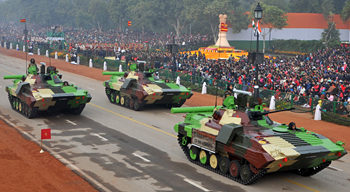 January 11, 2016: In what could be one of the largest recent stock procurements of new generation ammunition, the Army has published fresh interest. As part of a drive to beef up its mechanised forces and infantry, the Indian Army is planning to undertake procurement of new generation ammunition to replace the existing ammunition being fired by 30 mm cannon gun fitted on BMP-2/2K. The ammunition is required for all the BMP-2/2Ks held with Indian Army (approximately 2,900 vehicles). With a view to identify probable vendors who can manufacture the said ammunition in India, the OEMs/Vendors have been requested to rapidly forward information on the product which they can offer. The ammunition is intended to be fired from the existing 30 mm Cannon gun (2A42) mounted on BMP-2/2K being employed in varied climatic and terrain conditions varying from extreme hot and dusty desert conditions to extremely cold high altitude regions. The Army specifically is concerned over whether new ammunition types will involve any increase in the overall weight of BMP-2/2K due to the ammunition being offered replacing the existing ammunition, types of ammunition being offered i.e. AP, APFSDS, HE, Incendiary, Proximity, Plastic or Practice etc. Unless absolutely necessary, the Army would like to totally avoid any any changes in the existing sighting system on its BMPs.
Photo Credit: PIB