By Lt. General P.C. Katoch (Retd)


Former Director General of Information Systems, Indian Army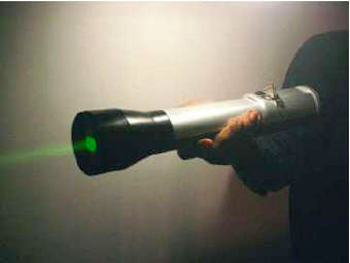 Short-Range Portable Laser Dazzlers
Home Minister told the Lok Sabha recently that government is appointing a committee to recommend alternative non-lethal weapons (NLWs) and that the committee is to submit its recommendations in two months time. This was pursuant to a media furore about the use of pellet guns against marauding mobs post the killing of terrorist Burhan Wani. The internet displays a host of NLWs are available off the shelf on the global market. These range from: baton guns or pellet guns firing rubber bullets, plastic bullets, wooden bullets or bean bag rounds; wave weapons like stun guns and tasers that use electro-shock pulse; tear gas, pepper spray, and; scent based weapons. One example of the scent based weapons is the 'Skunk' which Israel has been using since 2008 for crowd control. It fires a spray from water cannon which leaves the odor of rotten sewages wherever it falls. While the committee has been constituted, one wonders what has been the contribution of the DRDO in terms of crowd control equipment past decades especially when there is periodic rioting for political ends, and at least one political party is notorious for criminalization of politics. Obviously nothing much because only in September 2015, Ordnance Factory Board (OFB) officials held a meeting with representatives of DRDO, paramilitary forces including the National Security Guards (NSG) with the aim of developing NLWS. So who supplies of pellet guns being used in J&K. And, what is the fate of the 'Laser Dazzler' that the DRDO supposedly developed half a decade back? Has it been deployed for crowd control, particularly in J&K?
Recently, a Rajya Sabha MP who in the past has served as the Union Minister of Home Affairs and Internal Security told a TV channel that Army is using pellets larger than authorized in J&K. One can only pity his knowledge for not knowing Army never uses pellet guns; Army uses real bullets and fires for effect when required. He also talked about promise of a 'Grand Bargain' when J&K acceded to India and another MP from same party demands plebiscite in Kashmir. Obviously neither of the two have read the instrument of accession under which the Maharaja of J&K acceded his state to India, nor the 1948 UN Resolution on Kashmir; the instrument of accession has no mention of any bargain and the precondition of the plebiscite under the UN resolution was that Pakistan withdraw all security forces from J&K. Besides the 1972 Shimla Agreement discarded recourse to earlier UN resolutions, agreeing that J&K issue would be settled between India and Pakistan bilaterally. All non-lethal weapons do have some effect on the human body. Pellets fired penetrate the soft tissue of the skin. The J&K Police was equipped with pellet guns in 2010 and these have been in use since. This time their use has been more because of the large scale rioting and attacks on security forces, police stations, posts, bunkers, looting of weapons etc. However, their use by police forces was obviously not indiscriminate considering there are 280 pellet casualties of mobsters while more than 2200 security personnel have suffered injuries on duty on account of stone throwing – many receiving stitches on the face.
In a span of just two weeks, security personnel faced more than 600 attacks and some 70 arms were looted from police. If the police had actually used pellet guns as freely as alleged then the ratio of 280 versus 2200 would have been in reverse. Imagine a mob of 500-1000 attacking 20-30 security personnel – shouldn't they fire their pellet guns? Or, should they instead fire live ammunition or alternatively surrender their arms to the mob and submit to being lynched? Why would J&K Police needlessly fire pellets on the J&K public? There is talk that the pellets currently in use in J&K are larger. If that is true then it is the J&K Government which should be answering where the cartridges are obtained from. Incidentally, the ISI generated propaganda includes photo of a boy hit in the eyes by pellets in an incident in Gaza during 2015 – being bandied as a casualty in the Valley. Pakistan's intimate involvement in the current violence in J&K has rightly been commented upon by the EAM, HM and by the CM of J&K. Whatever alternatives we choose, it would be naďve to do away with pellet guns completely unless we want the police to fire live ammunition in desperation to save themselves. Pakistan has succeeded to some extent in replacing the Sufi culture of Kashmir with Wahabism in Kashmir Valley, is intent on enlarging the insurgency and would like mob attacks to continue. While we dither over our police using pellet guns, Pakistan is one up already with stone-pelters now also throwing acid bottles at security forces.
Photo Credit: DRDO