By Lt. General P.C. Katoch (Retd)


Former Director General of Information Systems, Indian Army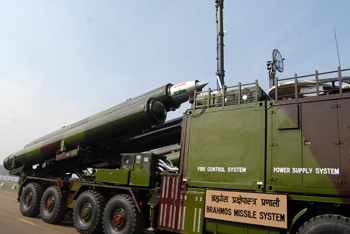 BrahMos Missile
In a humorous twist of events China, a country that shows focused intent of all around aggression in a bid to become a Great Power, has warned India against deploying BrahMos cruise in Arunachal Pradesh. This decades after she deployed scores of nuclear missiles targeting India and has without doubt deployed tactical nuclear weapons close to the LAC, besides developing infrastructure and road networks right up to the LAC that can also be used as launch pads for quick aggression while roads-rail infrastructure is some years away.
China that was only laying illegal claims to the Tawang Plateau suddenly expanded those claims to 90,000 sq kms of territory of entire Arunachal Pradesh. Her newly reorganized Western Theatre Command is to look after Myanmar, entire LAC with India and the Xinjiang bordering POK and Afghanistan. China has already declared her intentions that after her military reorganization is complete in 2020, she will start claiming her territories (read all illegal claims including Arunachal Pradesh, Eastern Ladakh and in the Central Sector). President Xi Jinping having concentrated total power under him has started displaying traits of a 21st Century Hitler. With these very clear Chinese intentions, the Modi Government has accelerated development of border infrastructure including advanced landing grounds (ALGs), deployed Tanks in Eastern Ladakh and fighter jets in northeast. To further boost our defences and as deterrent to China's evil intentions, the government has given the final go-ahead for the Army to induct and deploy an advance version of the BrahMos missile for mountains in Arunachal Pradesh. The BrahMos can carry a nuclear warhead and has a range of 290 kms. It is this deployment that is irking the Chinese as it must have shocked them into reality that their dreams of an easy walkover in Arunachal Pradesh will not only be retaliated in force but they are also liable to be hit in the rear, and that may not be by the 290 km BrahMos alone.
The sharp reaction therefore came from the PLA's mouthpiece, the PLA Daily, that doing so could bring countermeasures from China and bring "a negative influence" to "stability" of border areas. The humorous part is that they expect India o believe that China has not already deployed all its assets against India. While border transgressions by PLA are continuing, Xi Jinping recently bestowed special honour on a PLA battalion positioned in Tibet close to Arunachal Pradesh terming it a "model plateau battalion" for its outstanding performance in safeguarding borders, ensuring stability and helping disaster relief." In a separate statement, Xi signed orders to award merit citations to four military units and 15 people for outstanding services. Getting back to the BrahMos deployment, the PLA Daily says, "India deploying supersonic missiles on the border has exceeded its own needs for self-defense and poses a serious threat to China's Tibet and Yunnan provinces". The PLA Daily claimed India's views of "counterbalance and confrontation" were behind the move, noting other steps to bolster the border such as deploying Sukhoi Su-30MKIs and drones in border areas as "deterrence to China to create a military advantage in the boundary". PM Modi recently cleared this fourth BrahMos regiment at a cost of over Rs 4,300 crore.
The regiment consists of some 100 x missiles, 5 x mobile launchers and a mobile command post. What is making the PLA jittery is reflected by the PLA Daily saying, "The supersonic BrahMos cruise missile has excellent dive attack capabilities, and fits in the Sino-Indian border where it's mostly mountain topography …. the low observable nature and penetration capabilities of the 2.5 Mach-speed missile posed a threat to China's border areas… the deployment could increase suddenness and effectivity of attacks and land crushing blows on time-sensitive targets like missile launchers and solid targets like command centers. Deploying BrahMos missiles is bound to increase competitiveness and confrontation in Sino-Indian relations and bring a negative influence to the stability of the region". Interestingly, the PLA Daily also said that the BrahMos had "defects" like short range and heavy weight due to which the Sukhoi Su-30MKI can carry only one BrahMos. So, if these are the 'defects" why the jitters? But more importantly, who is this bigoted nation to tell us what weapon systems we deploy on our own territory and why. On the other hand if PLA is actually getting the creeps what stops them from peacefully settling the border and request for a no war pact?
Photo Credit: SP Guide Pubns