By Lt. General P.C. Katoch (Retd)


Former Director General of Information Systems, Indian Army
The Prime Minister of Nepal, Mr. Pushpa Kamal Dahal inspecting the Guard of Honour, at the Ceremonial Reception, at Rashtrapati Bhavan, in New Delhi on September 16, 2016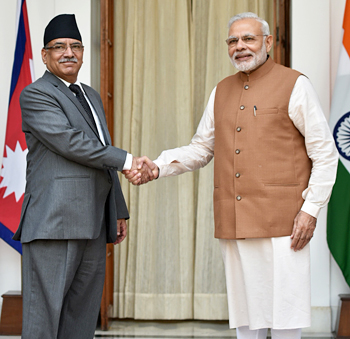 The Prime Minister, Narendra Modi with the Prime Minister of Nepal, Mr. Pushpa Kamal Dahal, at Hyderabad House, in New Delhi on September 16, 2016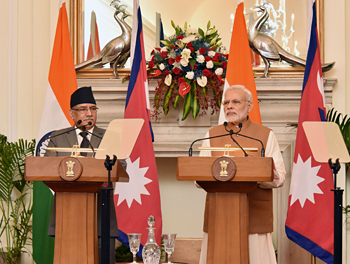 The Prime Minister, Narendra Modi and the Prime Minister of Nepal, Mr. Pushpa Kamal Dahal at the joint media briefing, at Hyderabad House, in New Delhi on September 16, 2016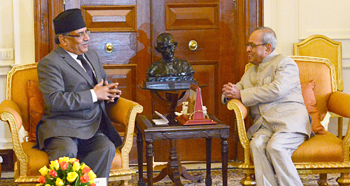 The Prime Minister of Nepal, Mr. Pushpa Kamal Dahal calling on the President, Pranab Mukherjee, at Rashtrapati Bhavan, in New Delhi on September 16, 2016
The recent four-day visit of Nepalese Prime Minister Pushpa Kamal Dahal 'Prachanda' on invitation of Prime Minister Narendra Modi commencing September 15 has helped in resetting Indo-Nepalese ties and dispel the unease of the past few months. Minutes after Prachanda's election on August 3, Prime Minister Modi had congratulated him on his success and invited him to visit India at his earliest convenience.
Coincidentally, his visit as the Nepal's Prime Minister eight years ago to India had also commenced on September 15, 2008, when many agreements were signed but hardly any follow-up was done. In his early years of politics, Prachanda being from the Maoist background and China's favourite had been critical of India accusing interference in the internal matters of Nepal. In 2001 he had even told the Nepalese media that the "ultimate fight will be with the Indian Army". However, he appears more cautious over the years. On assuming premiership this time, he first sent Deputy Prime Minister K.B. Mahara, his close associate, to China (signaling there was no change in his first priority being China) and the other Deputy Prime Minister Bimlendra Nidhi, a Madhesi who leads the majority coalition partner, the Nepali Congress, to India. During his visit, Prachanda stayed at the Rashtrapati Bhawan and also called on President Pranab Mukherjee. He also travelled to Shimla to see the 1,500 mw Nathpa Jhakri dam of Sutlej Jal Vidyut Nigam Limited (SJVNL), which is building the Arun III (900 mw) project in Nepal, and visited Baba Ramdev's Patanjali Yogpeeth and its industrial units in Haridwar.
An interaction with the Indian business community was also jointly hosted by ASSOCHAM, CII and FICCI in honour of Prime Minister Prachanda. During the meeting between the two Prime Ministers, Prime Minister Modi welcomed Prime Minister Prachanda and committed to go the extra mile in accordance with Nepal's development priorities. The two countries committed that they will "not allow" their territory to be used against each other and also agreed to set up an oversight mechanism to review the progress of economic and development projects on regular basis.
The two countries signed three agreements for upgrading Terai highways and an additional line of credit for new projects like Phase-2 of Terai roads, power transmission lines, substations and a polytechnic. Modi also announced a credit of $750 million for postearthquake reconstruction, which has been delayed. Modi said, "India's initiatives for open skies, cross-border power trade, transit routes, and cross-border connectivity will directly benefit Nepal and help strengthen our economic partnership". India is focusing on economic and power projects; the three power projects of Pancheswar, Arun III and Upper Karnali came up for detailed discussions. The government is expected to come out with a framework policy on cross-border power trade in the coming days, which will make it easier for Nepal to sell power. After the talks, Prime Minister Modi said, "India stands ready and prepared to strengthen its development partnership with Nepal."
The joint statement issued at the end of the talks listed out various issues including holistic review of bilateral cooperation and need to further deepen and expand bilateral cooperation in all areas for the mutual benefit of the people of the two countries – agreement to hold the next session of the India-Nepal Joint Commission in 2016; both governments to explore ways to further enhance regional cooperation particularly in trade, transit, connectivity and power including within SAARC and BIMSTEC; Eminent Persons Group on Nepal-India Relations to look into totality of India-Nepal relations and suggest measures to consolidate and further expand multifaceted ties; Nepal reiterated support for India's candidature for permanent membership of UNSC; both sided reiterated their territories would not be allowed to be misused by unscrupulous elements posing security threats to either side; resolve for early development of infrastructure at integrated check posts (ICPs) to facilitate smooth and faster movement of people and goods; agreement to initiate three additional crossborder rail-link projects for developments.
Prime Minister Prachanda invited Prime Minister Modi to pay official visit to Nepal, which was accepted by Prime Minister Modi. Prachanda's visit has helped reset Indo-Nepalese ties. However, the issue of accommodating demands of the Madhesis in Nepal's New Constitution will likely remain a vexed problem for Pracahanda. During this visit Prachanda had stated, "You are aware that my government has made serious efforts to bring everyone on board as we enter the phase of implementation of the Nepali Constitution." However, he has not been able to register an amendment motion in the Nepalese Parliament yet, since such amendment needs two-thirds majority (397 votes) to go through, and need the support of the K.P. Oli-led opposition, which is a difficult proposition.
The views expressed herein are the personal views of the author.