By Lt. General P.C. Katoch (Retd)


Former Director General of Information Systems, Indian Army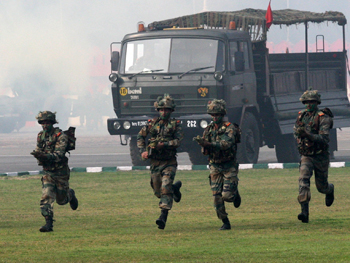 According to media reports, "The Indian Army is still nowhere near getting desperately-needed modern helicopters, howitzers and air defence weapons, or even new assault rifles and carbines, to plug its critical operational deficiencies. But its infantry soldiers are now finally poised to get some basic protection gear after decades of neglect". Reference to "some basic protection gear" refers to a deal worth Rs 170 crores for better, lighter helmets that is likely to be inked. But then there are many ifs and buts. The contract negotiation committee (CNC) itself was inordinately delayed because of complaints (the usual story) and financial queries. 1.86 lakh bullet proof jackets (BPJs) were to be provisioned to the Army by 2012 with another 1.67 lakh BPJs to be provisioned in second phase but none have been procured to-date.
Incidentally, follow up to the announcement by Defence Minister Manohar Parrikar in 2014 to procure 50,000 bullet proof jackets for the Army on "emergent basis" has finally resulted in a Rs 140 crore contract signed with Tata Advanced Materials Limited in March 2016. This despite media report of early 205 that many Indian private companies are exporting BPJs and helmets to more than 230 forces in over 100 countries including British, German, Spanish and French Armies, plus police forces stretching from Japan in the East to the US in the West. In what time frame these 50,000 bullet proof jackets contracted in March 2016 will be delivered is anybody's guess but the point to note is that the Army's shortages of bullet proof jackets had already crossed over 3,50,000. So what is the Army supposed to do whenever the 50,000 arrive on the scene? Surely they cannot be cut into pieces and distributed to all those without protection.
It is ironic that the bureaucracy in the MoD doesn't realize that the cutting edge is where the soldier must be best equipped by way of firepower, communications, surveillance, navigational aids, survivability and protective gear – and all this costs a pittance compared to big ticket weapon platforms and systems. As for helmets, the Army has been demanding light-weight ballistic helmets for almost two decades to replace the heavier and bulkier ones presently in use that only provide protection from splinters and rocks.. The proposed ballistic helmets with 13mm trauma protection pads are reportedly to be procured from an Indian manufacturer, MKU. As per MoD sources a contract for light weight ballistic helmets at a cost of Rs 170 crores is on the anvil albeit the number of helmets to be procured has not been mentioned. Helmets for 'commanders' are to be equipped with integrated communication headsets. As per media, the Army is looking for ballistic helmets that can stop 9mm bullets from distance of 20 metres and mount night-vision sights, protective goggles and other devices on them. Armies in advanced countries have ultra-light helmets made of high-tenacity composite and polyethylene materials, some also integrating video cameras, thermal, chemical and biological sensors, along with visors that act as heads-up computerized display for the soldiers. Indian Army's Future Infantry Soldier As A System (F-INSAS) conceived in April 2005 as part of Infantry Vision 2020, perceived a multi-mission, multi-role war fighter who is part of the system that contains numerous modular integrated sub-systems.
It is to be effected in three phases; Phase 1 includes Weapons, Body Armour, Clothing and Individual Equipment; Phase 2 is the Target Acquisition System and Phase 3 comprises the Computer Sub System, Radio Sub System, Software and Software Integration. Weapons Sub-System, Body Armour and Individual Equipment Sub-System are somewhat progressing. The basic weapons and BPJs, Ballistic Helmets along with other accessories at a conservative estimate are likely to start getting fielded in infantry battalions in next 3-6 but how going by the piecemeal procurement of bulletproof jackets taking so many years despite products available locally, how much time such overall equipping will require is anyone's guess. Unlike modern armies, we simply do not have the concept of 'packaged equipping' – equip individual soldier in one go. Provisioning of state-of-the-art small arms remains a sad story while capacity building for night enabled operations and ability to operate seamlessly in a net-centric operational scenario is a distant reality.
Photo Credit: Indian Army