By Lt. General P.C. Katoch (Retd)


Former Director General of Information Systems, Indian Army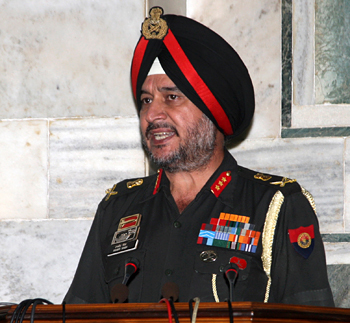 The Director General Military Operations (DGMO) Lt. Gen. Ranbir Singh briefing the media on the terrorist attack at Army Camp, in Uri, Jammu and Kashmir on September 18, 2016
In a well planned and coordinated terrorist attack Pakistan struck the army camp in Uri in the early hours of September 18, 2016. Eighteen soldiers are already reported dead and 32 injured. The killed count is likely to rise since the injured have suffered severe burn injuries. The terrorists surprised the camp spraying lobbing incendiary grenades and then spraying bullets, some of the grenades setting the diesel dump on fire. Thirteen of those reportedly killed were in two tents that caught fire. The four terrorists were eventually gunned down.
According to the Director General Military Operations (DGMO), all four attackers were foreigners and had items with Pakistani markings, adding, "Initial reports indicate that the slain terrorists belong to Jaish-e-Mohammed (JeM). Four AK-47 rifles and four under-barrel grenade launchers were recovered." In addition the Jammu and Kashmir (J&K) Police sources said a detailed map, GPS, explosives (RDX and TNT), a matrix sheet of codes and notes in Pashto had also been recovered from the slain terrorists. As per intelligence officials, seven Pakistani terrorists had infiltrated into J&K in August and it is believed that those three who were not part of Sunday's suicide mission might have taken shelter in nearby villages of Uri.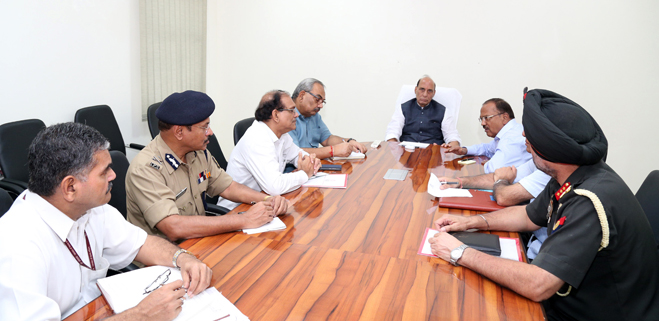 The Union Home Minister, Rajnath Singh reviewing the security situation in Jammu and Kashmir in the wake of terror attack in Uri, in New Delhi on September 18, 2016. The National Security Advisor, Ajit Doval, the Union Home Secretary, Rajiv Mehrishi, the Defence Secretary, G. Mohan Kumar and other senior officers of the Ministry of Home Affairs and the Ministry of Defence are also seen
Our media is hyper about:
Indian Army naming JeM with JeM chief Masood Azhar patronised by ISI and accused of masterminding the Pathankot terror strike in January this year put the spotlight more on Pakistan.
The terror attack sets the stage for an India-Pakistan showdown at the UN General Assembly (UNGA) this week where Nawaz Sharif plans to rake up Kashmir and External Affairs Minister Sushma Swaraj would respond by pointing to Pakistan's support to terror.
But the question is so what? Slanging matches at UNGA have little meaning when the UN has not even been able to force Pakistani security forces to vacate Pakistan-occupied Kashmir (PoK) as required under the 1949 UN Resolution on Kashmir.
As of now, neither the US is going to declare Pakistan a terrorist state, nor is it going to impose sanctions with latter already made clear by the US. This is the ground position despite US personnel getting killed in Afghanistan through Pakistani proxies and a US Senate panel accusing Pakistan of playing a double game. Pakistan has already parried Indian accusations of involvement in the Uri attack by asking for "actionable evidence". But when Pakistan has refused to act against the perpetrators of the 26/11 Mumbai terrorist attack, Parliament terrorist attack, Pathankot IAF airbase strike and several others despite India providing actionable intelligence, hardly anything remains to be said.
J&K's Chief Minister says the Uri terrorist attack is to "create a warlike situation in J&K". Wonder if she realises that J&K has been in a warlike situation over past three decades and hybrid war which has irregular and proxy forces is and will be the form of conflict in the foreseeable future. Late M.K. Dhar, former Joint Director of the Intelligence Bureau (IB) wrote in his book Open Secrets India's Intelligence Unveiled published in 2005, "I continued to advocate for an aggressive and proactive counter and forward intelligence thrust against Pakistan. My voice was rarely heard and mostly ignored. The Pakistani establishment is a geopolitical bully. The best response to blunt such a bully is to take the war inside his home. India has allowed itself to be blackmailed by Pakistan even before it went nuclear. The sabre-rattling of 'coercive diplomacy', which is nothing but sterile military power, cannot convince the Islamist Pakistani establishment that India can take the border skirmishes inside their homes and hit at the very roots of the jaundiced Islamist groups." Pakistan understands only the language of force and conventional force that we have been relying upon is not the answer to subconventional threats.
Pakistan understands only the language of force and conventional force that we have been relying upon is not the answer to subconventional threats
While all other options including diplomacy, focused conventional strike, etc, may be mulled over, there is shying away from taking the subconventional war right inside Pakistan. India has been blatantly wanting in this respect and that is why we have been bleeding away, even as our bureaucracy that holds the polity to ransom is working overtime to denigrate our military and deny the soldier his due. The skunk Musharraf had warned there would be many more Kargils and that even if the Kashmir issue is resolved, jihad against India will continue, acknowledging last year, "Osama bin Laden, Ayman al Zawahiri, Haqqanis are our heroes. We trained the LeT against India". Uri was a mini-Kargil.
The Pakistani army has not won any conventional war and has been smarting under losing East Pakistan, but they sure are winning at the subconventional level. We have the wherewithal to turn Pakistan's proxy war on its head even if it requires small gestation period – so why don't we do it?
Martyred in Uri on September 18, 2016

Havildar Nimb
Singh Rawat
6 BIHAR
Rajasthan

Havildar Ashok
Kumar Singh
6 BIHAR
Bihar

Naik Sunil Kumar
Vidharthi
6 BIHAR
Bihar

Sepoy Ganesh
Shankar
6 BIHAR
Uttar Pradesh

Sepoy Rajesh
Kumar Singh
6 BIHAR
Uttar Pradesh

Sepoy Naiman
Kujur
6 BIHAR
Jharkhand

Sepoy Harendera
Yadav
6 BIHAR
Uttar Pradesh

Sepoy Uike
Janrao
6 BIHAR
Maharashtra

Sepoy Biswajit
Ghorai
6 BIHAR
West Bengal

Sepoy Gangadhar
Dalui
6 BIHAR
West Bengal

Sepoy Rakesh
Singh
6 BIHAR
Bihar

Lance Naik Rajesh
Kumar Yadav
6 BIHAR
Uttar Pradesh

Lance Naik G
Shankar
6 BIHAR
Maharashtra

Sepoy Jawra
Munda
6 BIHAR
Jharkhand

Sepoy T S
Somnath
6 BIHAR
Maharashtra

Havildar Ravi
Paul
10 DOGRA
Jammu

Subedar Karnail
Singh
10 DOGRA
Jammu

Sepoy Kulmethe
Vikas Janardhan
6 BIHAR
(Died on Sep. 19)
The views expressed herein are the personal views of the author.