By Lt. General P.C. Katoch (Retd)


Former Director General of Information Systems, Indian Army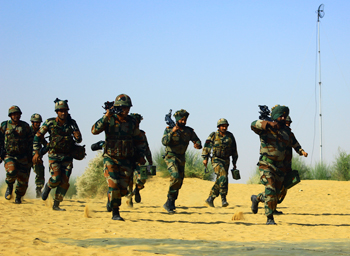 After a almost an eight year red-taped procurement procedure, the Army has got the delivery of 20,000 bullet proof jackets and another 30,000 are to follow. The Army needed 3,53,765 new jackets sanctioned as per a plan in 2009. This means that with the 50,000 new jackets, of which 20,000 have been received, the army is still short of 3,03,765 bullet proof jackets as per projections made in 2009. Army's existing bulky bulletproof vests are near the end of their operational life. As of 2009, 353,765 new jackets were sanctioned for the Army. Of these, 1.86 lakh jackets were to be supplied in the 11th plan (2007-2012) and another 1.67 lakh jackets were to be supplied during the 12th plan (2012-2017). However, with the 12th plan ending next year, only 50,000 jackets are being supplied for which the order was placed this year only despite the Defence Minister announcing in year 2014 that 50,000 bullet proof jackets would be procured on "emergent basis". Obviously there is little concern, as well as accountability where lives of soldiers are concerned even as soldiers are getting martyred in counter insurgency and counter terrorist operations as well as cross-border firing. This, despite media reports during 2015 that bullet proof jackets and helmets built to the highest specifications of personal protection are not only being produced in India but are being exported to more than 230 forces in over 100 countries, including to the British, German, Spanish and French Armies, as well as police forces stretching from Japan in the East to the US in the West.
Ironically, severe shortages of protective body armour continue in both armed forces and police forces where on one-hand we are calling for 'Make-in-India whereas on the other hand these items have been produced by indigenous companies past few years, who are also exporting these items.
Getting back to the "emergent" procurement of the 50,000 new bullet proof jackets for the Army, the Rs 140 crore order was only placed in March 2017 from Tata Advanced Materials Ltd, which significantly has supplied bullet proof jackets to the Army on earlier occasions also. Army has been looking for modern light weight modular bulletproof jackets that allow greater agility to troops while protecting the head, neck, chest, groin and sides of the infantry soldiers. The tender for purchase of 1.86 lakh modular jackets was scrapped in October 2015 as samples offered by six vendors failed to clear field trials as per the Army specified benchmarks. It is unclear whether Tata Advanced Materials Ltd had offered a sample in October 2015. However, now the news is that the DRDO has also come up with a prototype bulletproof jacket, as per the newer technical specifications, using different state-of-the-art ballistic materials. It would not be surprising that the whole procurement process was tied up in red tape and delayed to push the DRDO product through.
This has happened many times in the past. The question here is that if we are going in for 'Make in India' and privatization is being encouraged, why does DRDO have to go for bullet proof jackets when Tata Advanced Materials Ltd is already supplying state-of-the-art modular jackets and other private companies too are exporting such products to some 230 forces in over 100 countries. Isn't this quest for moneymaking through every item that is adversely affecting equipping of our forces, even where lives of soldiers are involved? About time, the government takes a call on such issues.
The views expressed herein are the personal views of the author.
Photo Credit: Indian Army