By Lt. General P.C. Katoch (Retd)


Former Director General of Information Systems, Indian Army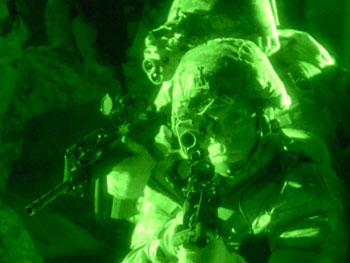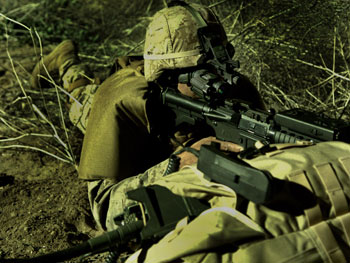 As per media reports, MoD has approved purchases for improving the night warfare capabilities of the Army at a cost of US$3.2 billion. This is good news but going by past experience of excruciatingly long procedures, how many years elapse before this equipment actually gets fielded is anybody's guess. The Army has already invited global bids for night vision devices (NVDs) for light machne guns (LMGs) and Uncooled Thermal Imager based Driver's Night Sight with fusion technology for the Russian-origin T-90 tanks. The Army requires the range of detection of a human target at minimum 1000 meters. The normal range of detection is approximately 300 to 500 meters at night with a high quality NVD and that too on a clear night. However in certain terrain with limited vegetation higher ranges can be obtained. After inviting global manufacturers to supply night sights for LMGs and driver's night sight with fusion technology for T-90 tanks, the Indian Army is now beefing up the night fighting capabilities of its foot soldiers. Request for information (RFI) for the purchase of 15,000 night vision devices (NVDs) for rocket launchers, 5,000 NVDs for medium machine guns and more than 1,25,000 for other small handheld arms. The type of technology being sought by the Army is not available in India. Even for LMGs, the Ordnance Factory Board (OFB) claims to have developed Image Intensification night sights whereas the Army is seeking thermal image based technology. In this era of terrorism, insurgency and irregular warfare, where every soldier must be able to see by night, India has ironically been conservative in providing such capability to every soldier even at the cutting edge. Same goes for night surveillance devices. During the recent terrorist attack at Uri, the army base was discovered later to have not a single thermal imager. The philosophy for night vision must be constantly reviewed if we are to learn from the mistakes of the past. For example, when the HHTIs were first imported from Israel and France only one charger per four HHTIs were procured. This created major problems with widely dispersed deployments in J&K and forced the infantry to improvise chargers, which may have caused inadvertent damage to the equipment. Another example of the 'penny wise pound foolish approach' was that the artillery went in for numerous laser target designators but only one charger that was kept centrally at the School of Artillery and every time charging was needed, individual designators had to be flown in and out. Now the T-90 tanks have been in service for a number of years with us, so it is surprising that it is only now that procurement of Uncooled Thermal Imager based Driver's Night Sight with fusion technology has been looked at. Unfortunately, indigenous development of NVDs has remained pathetic, even IR tubes were always being imported. Post the terror attack on the IAF base at Pathankot, MoD had announced a task force to look at the total security of all installations. This would have naturally taken into taken into the night fighting capability required. However, looking at the abovementioned numbers, only a restricted number of the troops appear being catered for. A vital ingredient of battlefield transparency is the ability to see by night. Night vision optics, night vision goggles, night vision scopes, night vision monocular, weapon scopes and night vision compatible laser aiming devices are widely recognized as a vital to any army. Longer reach and improved resolution, better the chances in conflict situations. All conflict situations including countering terrorism and irregular warfare conditions will provide fleeting targets in poor light conditions and darkness. Every soldier, particularly the fighting arms must be able to observe and fire. Enhanced Night Vision Goggles (NVGs) that use digital imagery to improve mobility and situational awareness under all lighting conditions (including through rain, fog, mist, snow, sandstorms, blizzards) are required for overcoming battlefield obscurants that would generally hinder vision. These should be helmet-mounted systems that digitally combine video imagery from a low-light-level visible sensor and an un-cooled long-wave infrared sensor onto a single color display located in front of the soldier's eye. Till such time that NVGs are procured to required levels, voids should be filled with Monocular Night Vision that can also double up as night sight of individual weapon of the soldier. Digital technology should provide improved image quality. Application of advanced technology should aim at using NVDs for shooting around corners, reading maps, and laser designation etc incorporating sensor technology used in thermal weapon sights. All weapons (individual and crew served) must have NVDs to enable function as by day. Similarly, adequate NVDs are required for spot and area surveillance and for laser designation of targets in order to optimise use of smart ammunition. Accessories for night vision need provisioning in a manner that users have no need to look over their shoulders. We need to review our Night Vision Philosophy, not focusing only on insurgency-prone areas. Considering the expanding threat of terrorism, not only the Army, but PMF, CAPF and police forces tasked for CT-CI too need such capability. This warrants a holistic approach at national level and initiation of requisite indigenous production capability under the 'Make in India' project.