By Lt. General P.C. Katoch (Retd)


Former Director General of Information Systems, Indian Army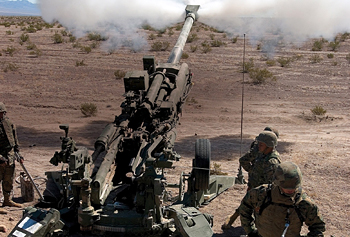 M777 ultra-light howitzer
In what is being described as "laying the Bofors ghost to rest", the first two M777 howitzer guns manufactured by BAE System of the United States arrived in India and were test-fired at the Pokhran field firing ranges to mark 'Pokhran Day', marking the first nuclear test by India at Pokhran on May 18, 1974, described as "peaceful nuclear explosion".
Arrival of these guns also marks a boost for Indian Army, 30 years after the Bofors howitzers were introduced in the artillery. After almost seven years of discussions, trials and choosing, India and the Unites States inked a nearly Rs. 5,000-crore deal for 145 x M777 ultralight howitzers last year. India signed the letter of acceptance (LoA) on November 30, which formalised the agreement.
This broke the decades long jinx of our artillery having been starved of inducting new artillery guns after the Bofors scandal, following which India blacklisted the Swedish firm. The blacklisting resulted in drying up the supplies of spare parts and assemblies for these guns also. In fact, during the Kargil conflict of the 400 x Bofors guns imported only 100 could be cannibalised. The offsets, under which BAE Systems, the manufacturer of the gun, will invest about $200 million will be pursued independently. While 25 guns will come to India in a fly-away condition, the rest will be assembled at the proposed assembly integration and test facility for the weapon system in India in partnership with Mahindra Defence. 40 Indian companies will be eligible to be part of the supply chain.
Of the 25 M777 howitzers to be imported, the first two howitzers were to be delivered within six months of the contract being inked – which have just arrived. The rest are to be delivered at the rate of two per month. Army had successfully tried and selected BAE Systems M777 155mm/39-calibre light-weight howitzers guns from the US years back but the procurement was stymied over an anonymous letter alleging bribes. The M777s are ideal for mountains. Besides they can be airlifted swiftly to beef up high-altitude areas along the line of actual control (LAC) with China in emergent situations. These guns will also be mainstay ordnance for artillery regiments of the Mountain Strike Corps.
Built with titanium and aluminium alloys, the M777 is 155mm/39-caliber howitzer that weighs only 4,218 kg, compared to the 155mm towed howitzers that weigh twice as much. This gives the former superior tactical mobility including facilitating their swift deployment in mountains under slung from helicopters. With a range of 35 to 40 km, it is ideal for deployment in mountains along our borders with Pakistan and China. At the same time while the mountainous regions along the western frontier has good roads (where these howitzers can be delivered by tuck, the border infrastructure is poor along the China border, where heavy guns cannot be transported due to poor road connectivity, leaving critical gaps. Movement of guns under slung by helicopters or dismantled and airlifted to mountainous regions is possible but should not be permanent arrangement. Therefore, special focus is needed to develop the border infrastructure in that sector speedily. The M777 artillery guns have been used during operations in Afghanistan and Iraq, while more than 1,090 M777 guns are in service globally.
India will be the latest user of these howitzers operated by the United States, Australian and Canadian militaries for accurate artillery fire support. Presently, Indian Army holds 180 pieces of 130mm/39-calibre M-46 Russian guns that were upgraded to 155mm/45-calibre by Soltam of Israel. In addition, in 2012 tenders were floated for 1,580 towed guns of 155mm/52-calibre, 100 tracked guns of 155mm/52-calibre and 180 wheeled and self-propelled guns of 155mm/52-calibre. The Indian Army has some 264 artillery regiments but most of them are equipped with the 1970s era of 105mm Indian Field Gun (IFG), in addition to some regiments equipped with 130mm M-46 howitzer guns Supplied by the Soviet Union in the 1960s. The latter howitzer guns have been upgraded to 155mm but such upgraded howitzer guns can hardly compete with modern computer aided artillery howitzer guns in warfare.
Army's long-term plan to replace these with 155mm howitzers recently received a boost after the Defence Research and Development Organisation (DRDO) produced the Dhanush based on specification and manufacturing know-how received under the transfer of technology (TOT) more than three decades ago from Bofors of Sweden. As per reports, the Indian Army is to initially order 114 x 155mm/45-calibre howitzer Dhanush to equip a number of medium artillery regiments.
Subsequently, the Indian Army is to reportedly place an order for another 300 or more Dhanush guns. However, the yearly capacity of the Ordnance Factory Board to produce the Dhanush gun was only 16 till 2015. There were plans to increase the yearly production rate to 36 during year 2016 but whether this has been affected is not known. But even if the production is increased to 36 per year, it will take more than a decade to equip the artillery with 400 plus of Dhanush guns. Acquisition of the 145 x M777 155mm/39-calibre lightweight howitzer guns simultaneous to the indigenous Dhanush will provide the much needed boost to the artillery. The M777 guns will be followed by new 155mm/52-calibre tracked self-propelled guns.
Private sector defence major Larsen & Toubro and South Korea's Hanwha Techwin (HTW) on April 21 signed a $720-million contract for the artillery gun programme. The Indian Army will be supplied 100 K9 Vajra-T guns. L&T plans to begin production of the guns at Talegaon, near Pune in Maharashtra, and is expected to deliver them within three years. An improved version of HTW's K9 Thunder, the K9 Vajra-T, has been designed to meet Indian requirements, including those of its desert formations.