| | |
| --- | --- |
| | The Author is Former Director General of Information Systems and A Special Forces Veteran, Indian Army |
Surveillance has been perpetual concern of troops manning our borders. If Pakistan has ever since been a hostile neighbour, China continues to indulge in intrusions. Ironically, the DRDO has not been able to provide any viable solution for surveillance, not even appropriate ground sensors. Imported ground sensors are more for warning of intruders approaching houses, and even these do not work in snow conditions. So surveillance is by and large through hand-held thermal imagers (HHTIs) and sensors or cameras along border fencing in limited numbers.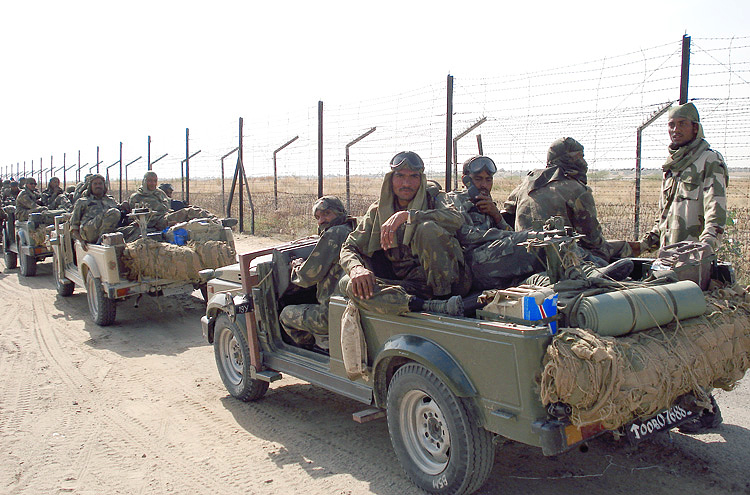 Indian soldiers patrolling the border fence between India and Pakistan
Ironically, Army's Tactical Command, Control, Communications and Information (Tac C3I) System is running way behind schedule, including its component of Battlefield Surveillance System (BSS). But some help in terms of surveillance is on the horizon through the private industry. Concurrent to the Home Minister Rajnath Singh inaugurating the installation of first 2 x six km stretches of the overall smart fence project for a Comprehensive Integrated Border Management Solution (CIBM) along the international border with Pakistan on September 17 this year, more high-tech equipment for border surveillance, perimeter security and counter terrorist operations have been developed for deployment along the Line of Control (LOC) with Pakistan and the Line of Actual Control (LAC) with China. CRON Systems, an Indian startup, in partnership with a California based technology firm, Quanergy Systems has developed two surveillance systems: 'Kavach Z' and 'GeoSight'. The Kavach Z, employs multiple sensors for preventing intrusions by providing 'actionable intelligence' of potential attacks. It provides 360 degree situational awareness to security forces by detecting objects and persons approaching the perimeter at a distance of 200m; it provides a 3-D mapping system for tracking such objects. It classifies a threat and a non-threat on the mapping screen, by differentiating between a person and animal by colour coding. Red colour denoted a threat, while green is for human and few identified colours are for animals. The GeoSight, which works similarly, has a design that makes it capable of creating a 3D Visualization of the surrounding area, even in adverse environmental conditions, including by nihjt. The GeoSight is setup on a vehicle and consists of sensors at the front and back for tracking the road and the surrounding terrain, includng houses, walls, vehicles and movement. It can track up to 150m. Like the Kavach Z, it also classifies the threat using colour coding. The data is saved and placed on a virtual map, creating a 3D view. Two surveillance systems and the technology centres were launched on September 26 by CRON Systems in Leh. According to the firm, the Army is testing one of these systems, called Kavach Z, along the LoC. The same is also likely to be tested along the LAC in Eastern Ladakh over the next few months. The Kavach Z has been deployed at a particular patch along the LoC and is undergoing trials past two months. The trial will continue for the next three months or so with the Army examinig it and giving their feedback, which according to the firm has been been good so far. CRON Systems has also set up three technology centres in Kashmir and Ladakh for repairing, maintaining and customizing Army's electro-optical equipment. This is in view of lack of adequate technical support in remote areas. It plans to open a total of eight centres along the LoC.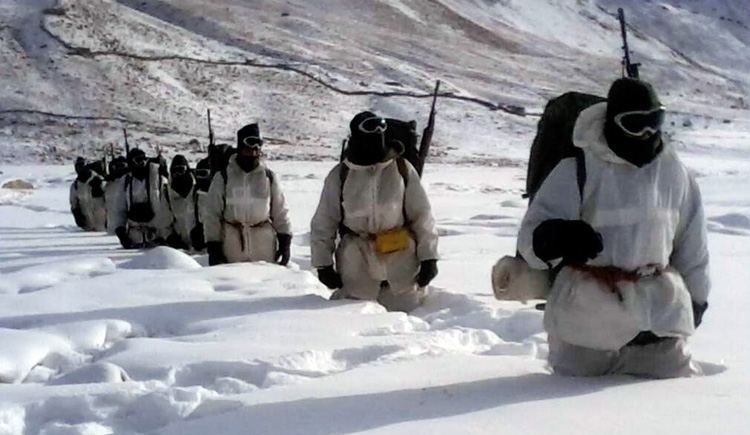 Troops guarding our frozen borders in inclement weather conditions
Army badly needs surveillance equipment that can work at altitudes where temperatures dip to -40 degrees, and has asked some some industries to come to Nyonma and in Siachen area during coming November and December for evaluation of their logistics and surveillance equipment, to check whether they can function in extremes of winter. The other equipment, 'GeoSight,' has just been launched but is yet to be deployed. According to Army sources, trials of several companies have been done along the LoC. Surveillance equipment is essential not only to reduce infiltration and intrusions, but also provide 3D mapping of terrorist prone areas in Kashmir with a data backup for planning future operations. Despite the informal summit between Prime Minister Narendra Modi and President Xi Jinping at Wuhan in April this year, Chinese intrusions have increased. The above mentioned surveillance systems will help the Army, but it must concurrently accelerate the pace of development and fielding of its Tac C3I System to not only provide seamless surveillance but also real-time sensor to shooter grid. The Army must take responsibility for delay in a vital project like BSS whether by itself or due to pressure from the bureaucracy. The contract for BSS was signed in March 2011 (seven years back) but instead of showing urgency, the BSS project is now being rehashed; the changed thinking now is that in all DGIS Integrated systems, the networks will not be intra system but those provided by Signals. This after multiple field trials of BSS undertaken by the Corps nominated for such trials in conjunction BEL to select suitable BSS communications. This despite the fact that in absence of Tactical Communications System, Army's existing communications at tactical level are hardly suited for plug and play state accept Tac C3I systems in absence of TCS.
Army is also changing architecture of systems from server based to cloud based. On balance, if we keep falling into the technology trap then we can never have any Tac C3I. Army must complete a project, learn lessons and then go for improved versions. Otherwise we will keep going around the mulberry tree with tech-tigers making brownie points to the hierarchy on paper but standing still otherwise.