| | |
| --- | --- |
| | The Author is Former Director General of Information Systems and A Special Forces Veteran, Indian Army |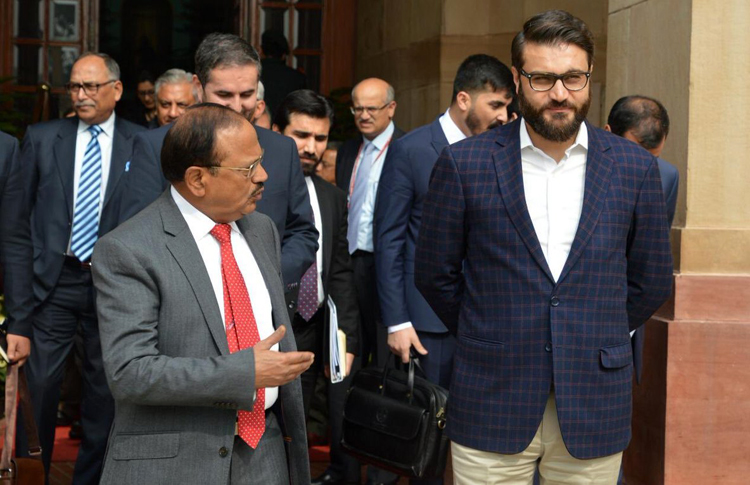 Dr. Hamdullah Mohib, NSA of Afghanistan with Ajit Doval, NSA of India
Dr. Hamdullah Mohib, National Security Adviser of Afghanistan, visited India on the invitation of his Indian counterpart Ajit Doval from 3 to 5 January 2019. Both the NSAs exchanged views about developments in Afghanistan. Mohib briefed Doval on: security situation in Afghanistan; holding of parliamentary elections; scheduled presidential elections and; efforts by the Afghan Government for peace and reconciliation. He also expressed appreciation of Indian assistance to Afghanistan in terms of economic development, reconstruction of Afghanistan, and human resource development including training of Afghan National Defence and Security Forces in India. On his part, Doval conveyed India's continued support for the efforts of the Government and the people of Afghanistan to bring peace, security and prosperity in that country. He reiterated that that India supports all efforts for peace and reconciliation that are Afghan owned, Afghan led and Afghan controlled. He also stressed that regional and international partners of Afghanistan need to work keeping in mind the priorities, wishes and desire of the Afghan people, and that India welcomes the fact that the people of Afghanistan have time and again reposed faith in democratic governance and the forthcoming Presidential elections in Afghanistan will further deepen the roots of democracy in Afghanistan.
Mohib stated in an interview with Strategic News International, India, that India will deliver four more Mi-25 gunship helicopters to the Afghan Air Force with the delivery of two gunships scheduled for the month of March this year, saying, "We will receive the first of those two in March hopefully. It's just a process that's taking time. The other two should come in June or July. It's just a matter of preparation. They will arrive soon." This comes as Afghan officials had said earlier that an agreement has been signed between Afghanistan, Belarus, and India for the delivery of the four gunships. Mohib also told Strategic News International that he had productive meetings in India with NSA Ajit Doval and other security officials on regional stability, the democratic progress and ongoing peace efforts in Afghanistan, and bilateral security cooperation.
Doval is also set to visit Afghanistan on invitation of his Afghan counterpart, dates for which will be decided later. Interestingly, the two NSA's met a day after US President Donald Trump took a jibe Prime Minister Narendra Modi for funding a 'library' in Afghanistan, saying it was of no use in the war-torn country as he criticised India and others for not doing enough for the nation's security. In his first cabinet meeting in this year on January 2, 2019, Trump asked India, Russia, Pakistan and other neighbouring countries to take responsibility for Afghanistan's security as he defended his push for the US to invest less overseas.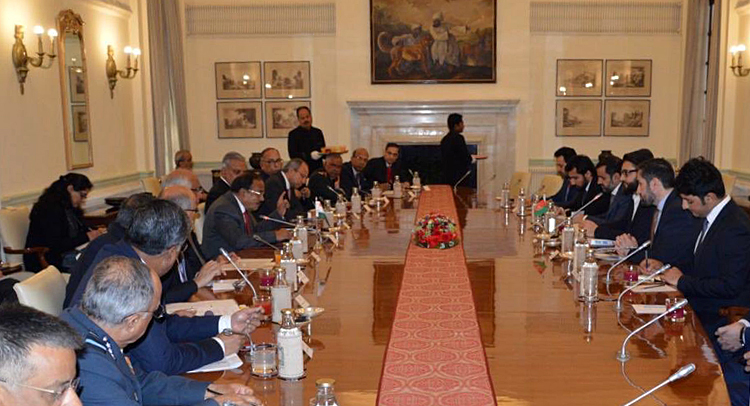 Dr. Hamdullah Mohib, NSA of Afghanistan and Ajit Doval, NSA of India and other security officials held productive meetings on regional stability, the democratic progress and ongoing peace efforts in Afghanistan, and bilateral security cooperation.
India-Afghanistan enjoy strong relationship under the India-Afghanistan Strategic Partnership Agreement of 2011, whose four pillars are: political and security cooperation; trade and economic cooperation; capacity development and education, and; social, cultural, civil society and people-to-people relations. Implementation of the Strategic Partnership is under framework of a Partnership Council headed by Foreign Ministers of both countries, with the Council convening annually. India has played a major role in the reconstruction of Afghanistan since the fall of the Taliban regime and had invested over $2 billion in various reconstruction and infrastructure projects, and economic assistance by 2016. During a visit of Afghan President Ashraf Ghani to India in late 2016, India pledged a fresh aid package of $1 billion to support the reconstruction projects in Afghanistan. Major infrastructure projects undertaken by India in Afghanistan include: construction of Salma Dam power project (42 MW) in Herat Province; construction of 218 km Zaranj-Delaram road to Iranian border; construction of 220kV DC txn line from Pul-e-Khumri to Kabul and a 220/110/20 KV sub-station at Chimtala; construction of the Afghan Parliament (completed in 2013); restored telecommunication infrastructure in 11 provinces, and; expansion of national TV network by providing an uplink from Kabul and downlinks in all 34 provincial capitals. During 2018, EAM Sushma Swaraj had met her Afghan counterpart Salahuddin Rabbani and agreed upon implementing 116 new 'High Impact Community Development Projects' in 31 provinces of Afghanistan, including in the areas of education, health, agriculture, irrigation, drinking water, renewable energy, flood control, micro-hydropower, sports infrastructure, administrative infrastructure.
India has gifted three Airbus aircraft to Afghanistan and provided re-training to airline officials of Afghanistan. The two countries have also developed a high level of cooperation in terms of military and security during the recent years. Humanitarian assistance has been provided in terms of food items, medical facilities and free medicines, buses, mini-buses, utility vehicles and ambulances, toilet-cum-public sanitation complexes, and multiple small and community-based development projects. Military relations between the two countries are strong. Military assistance includes training of Afghan military and security personnel in India, including commissioning of officers of Afghan National Army, joint training and supply of military equipment. India had already gifted four Mi-24 attack helicopters to Afghanistan earlier. However, in light of possibility of withdrawal of US troops from Afghanistan, there is need for India to recalibrate its Afghan policy.
There has been discussion about the 'Cold Start' Doctrine in the past. Factually, every war commences from 'cold start' and preparation time for deployment o troops. It is not simply about a parachute company or a battalion under the Parachute Brigade that can be launched in two and six hours respectively. Even the launch of 'Mukti Bahini' in East Pakistan as prelude to India's invasion required gestation period. That is the reason, then Defence Minister Jaswant Singh had denied existence of a 'cold war' doctrine. In the India-Pakistan context, not only are Pakistani forces closer to the border, there are enough means on both sides and Pakistani human sources within India, including close to the border, to detect mobilisation. We could have done well to 'practice' cold start, not brag about it – and same goes for the one-time surgical strike – all raids being surgical'.
The chances of 'all out' conventional war are minimal though not completely ruled out. However, the contention that we will strike at the place of our choosing needs to be taken with a pinch of salt, with respect to conflict with China. For example, sitting kilometers behind the Line of Actual Control (LAC) in say Arunachal Pradesh, PLA intrusions on extended front will force us to fight there, even as our possible strike through Chumbi Valley will be contested by Chinese presence in Doklam, while Pakistan will continue contributing to the 'collusive threat'. Yes, we are inducting big-ticket weapon systems, but unless the cutting edge and the frontline soldier are addressed, we are hardly in a position to strike China at the place of our choosing, the asymmetry in military technology being another factor.
Effective integration of soldiers, artificial intelligence and Robotics into warfighting systems that exploit existing capabilities for success in battle finds mention in the Doctrine. All this looks good on paper but development of information systems within the Army are either stagnating or have been foreclosed - like the Battlefield Management System. So, how do we expect the troops and commanders to optimize technology? Similarly, issues like quick mobilisation, inter-theatre reserves with interoperable equipment/ assets can hardly be effective in areas where border infrastructure continues to be woefully inadequate – especially in the northeast.
Theaterisation of inter and intra Service critical assets has been mentioned. At the same time, it is observed that while Army has adequate numbers of Special Forces (SF) battalions, elements of SF battalions from our northeast are deployed in J&K despite enough opportunities within the eastern sector to sharpen operational experiences. Apparently, connect between theatreisation and 'theatre specialisation' is missing, especially where SF need time to develop own sources.
Finally, the doctrine states that the Army shall be the primary instrument of the overall deterrence capability of the Nation. In this context it is reiterated that India continues with a strategic asymmetry vis-à-vis China and Pakistan in terms of sub-conventional warfare, which needs to be addressed. Conventional response cannot adequately address sub-conventional threats. There is urgent need for India to develop publicised overt capabilities and deniable covert capabilities as deterrence against irregular war thrust upon us and we must have the will to selectively demonstrate such capability to ensure its credibility.
Overall, plenty effort has gone into defining the Indian Army Land Warfare Doctrine 2018, however, elaborating on the issues above, would provide more clarity. Appropriate application of tri-service force is also mentioned but the missing synergy between the three services is a well documented fact. In addition, the Army's quest for capacity building for network centric warfare is in state of semi rigor mortis due to various factors including poor defence allocations. In contrast, the reorganisation of China's armed forces is progressing rapidly. The politico-bureaucratic hierarchy appears unconcerned about the asymmetry, which would cost us dearly in conflict. Defence budget allocations need to be enhanced. The combined market capitalisation of India's Public Sector Undertakings (PSUs) had reached $337.6 billion since January 2011 according to data compiled by Bloomberg on June 9, 2014, with crass underperformance, guzzling public money year after year. If these PSUs can give a return of 30-50% which should be in the realm of possibility, how fast and where will India move up? This is just one example where large amounts of money can be tapped.