| | |
| --- | --- |
| | The Author is Former Director General of Information Systems and A Special Forces Veteran, Indian Army |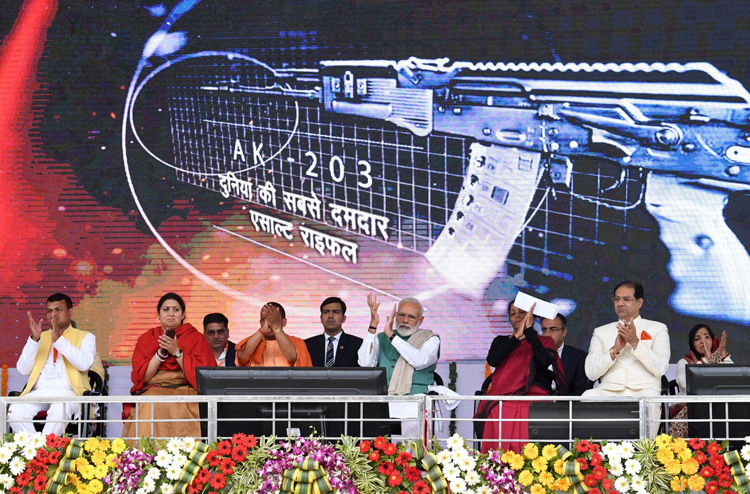 Prime Minister, Narendra Modi at the unveiling of the various development projects, at Amethi, in Uttar Pradesh on March 3, 2019.
Headlines like "Army chief's new experiment - Major General is CEO of AK-203 rifle factory in Amethi" appeared in the media recently, highlighting that Major General Sanjeev Sengar has been appointed CEO for four years, this being the first time in decades that a uniformed officer will head an ordnance factory. The reports state that the central government has appointed a Major General of the Indian Army as chief executive officer (CEO) of the Korwa Ordnance Factory in Uttar Pradesh's Amethi district, which will manufacture AK-203 assault rifles for the military under an Indo-Russia joint venture.
Reports prominently highlighted that the move is the brainchild of Army Chief General BipinRawat, and the government has accepted it as an experiment. It was also elaborated that the Army has been concerned over low quality and delivery problems when it comes to ordnance factories' products, so if this new model for the AK-203 factory is successful, it might just pave the way for a new set-up to oversee such factories. The report also pointed out that when the joint venture, 'Indo-Russia Rifles Private Limited', was formed earlier this year under the 'Make in India' initiative, the idea was to have an Indian CEO from the Ordnance Factory Board (OFB), since the OFB has a 50.5 per centstake in the venture, Kalashnikov owns 42 per centand Rosoboronexport owns 7.5 per cent. The Russian AK-203 rifle, chambered to fire 7.62×39mm ammunition (same as the AK-47), is to meet the Army's requirement for 6.5 lakh assault rifles, which is in addition to the rifles ordered from US manufacturer SIG Sauer in January.The AK-203 rifles will replace the 5.56×45mm INSAS (Indian Small Arms System) rifles, which have been in use for over two decades despite numerous faults.
Another report has stated that Army Chief General BipinRawat has recommended to the government that the Base Workshops be taken over by the Army. To start with, Kalashnikov was keen to undertake the AK-203 project with the Adani Group but the government was apprehensive because the Rafale controversy had erupted. So, the excuse found was that this being a government-to-government (G2G) venture, Kalashnikov could only tie up with a government-owned entity. This was opposite to valid demands for cutting down the governmental defence-industrial elephant sucking on taxpayers money and providing products to defence forces on inflated prices. The least that could have happened is making corresponding decrease in the Small Arms Factory at Kanpur or elsewhere, which was not done.
On March 3, 2019, Prime Minister NarendraModi laid the foundation stone for the AK-203 rifle manufacturing unit in Amethi in presence of Russian President Vladimir Putin. Earlier, addressing his first rally in Amethi since 2014, Modi had said, the rifles will be known as "Made in Amethi" (MIA) and will help security forces in militant encounters. Concurrent to the MIA AK-203 project, MoD is also procuring 72,400 7.62x51mm SIG716 assault rifles from the US, whose ammunition too will be eventually produced in India. The SIG716 uses 7.62mm-51mm cartridge whereas the AK-203 will have 7.62mm-39mm cartridge. This implies two types of ammunition for these rifles in the Army and two types of ammunition required to be produced indigenously. It is good that a two-star serving officer has been posted as CEO at the MIA AK-203 factory. Surely, he is technically qualified, and most likely better than mill of the run candidates from within the OFB-DRDO. So why call it an "experiment" for the next four years? The bureaucratic ploy is quite evident, however, if the move is because the Army has been concerned over low quality and delivery problems when it comes to ordnance factories' products, why the MIA AK-203 factory has been chosen, when other OFB facilities are running riot with the Army? Only recently Army had told MoD that spike in ammunition related accidents was causing fatalities, injuries and damage to equipment at an alarming rate, which in turn is leading to the Army's loss in confidence in most types of ammunition supplied by OFB. This was because of regular incidents with 105mm guns, 130mm MA1 medium guns, 40mm L-70 air defence guns, as also guns of T-72, T-90 and 'Arjun' Tanks. There have been over 40 accidents of 125mm high explosive ammunition fired by tanks in the last five years. Army has been forced to stop firing of 40mm L-70 guns completely adversely affecting training and operational requirements in 'no war no peace' contingencies. The Army took this step after the last accident in February 2019 in which an officer and four soldiers were seriously injured during field firing.
There has been little improvement even after CAG tabled a report in Parliament in July 2017 pointed out mounting slippages in provisioning ammunition of all types by OFB – 64 per centto 95 per centin period 2013-2016, also indicting OFB for poor quality ammunition supplied. CAG found ammunition worth Rupees 17000 crore was rejected by Army because of poor quality. Even 7.62mm bullets found faulty amounted to Rupees 130 crore. This being the case, would it not have been better to post uniformed CEO at ammunition producing factories, or in addition to the AK-203 factory? If governments were listening to Army Chiefs, the Army would not be in the state it is now – poorly equipped and lowered in every respect vis-à-vis CAPF and all civil services. Even the Railway Protection Force has been granted NFU, but Armed Forces denied. Mentioning BipinRawat by name is perhaps to boost his image since he is under flak for actions at cross purposes to interests of soldiers, veterans and disabled. The news about Rawat recommending Base Workshops to be taken over by the Army is another bureaucratic fake insertion in media. Army Base Workshops were taken over by MoDonly a year back by selectively implementing the Shekatkar Committee Report, reducing them to the level of inefficiency of DPSUs and OFB entities.