| | |
| --- | --- |
| | The Author is Former Director General of Information Systems and A Special Forces Veteran, Indian Army |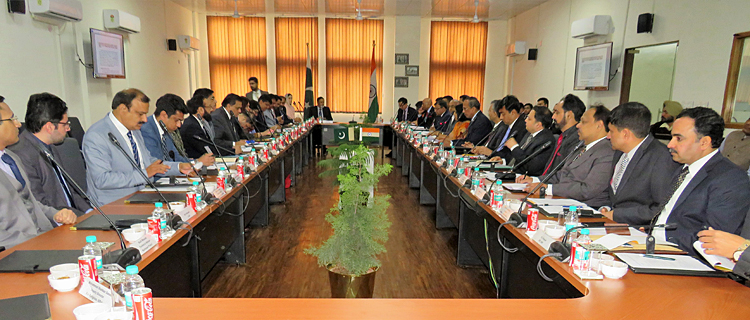 Indian delegation led by the Joint Secretary, Ministry of Home Affairs, S.C.L. Das and Pakistan delegation led by the Director General (South Asia), Ministry of Foreign Affairs, Dr. Mohammad Faisal, during the India Pakistan talks on the Kartarpur Corridor, at Attari, Amritsar on March 14, 2019.
When Navjot Singh Sidhu returned from Pakistan after hugging the Pakistani army chief Q.J. Bajwa at swearing in of PM Imran Khan on August 18, 2018, he announced Pakistan has agreed to open the Kartarpur Corridor. The proposal coming from Bajwa meant serious mischief; pretenses of peace by Pakistan military is always accompanied by terrorist attacks, ceasefire violations, radicalisingIndian youth, pumping narcotics and fake currency into India – as events since then have proved. Significantly, Sikh separatist Gopal Singh Chawla was present for Imran's swearing in. Captain Amrinder Singh, Punjab Chief Minister had declined Imran's invitation for his swearing, replying "since his government came to power in Punjab, the state had neutralised 19 ISI armed and controlled modules, apprehended 81 terrorists and recovered 79 weapons, in addition to numerous grenades made in Pakistan's ordnance factories, with Austrian knowhow, along with seizure of some IEDs".
India could have deferred the Pak proposal till it showed verifiable measures to curb terror – as is India's stand today with regard to India-Pakistan talks. But the proposal was accepted under pretext it was longstanding, the bigger reason being BJP-Akali Dal alignment and coming elections. Vice President Venkaiah Naidu laid the foundation stone for the Kartarpur Corridor on the Indian side on November 26 and Imran Khan on Pakistani side on November 28. Pakistan's real intent became evident when 'Sikhs For Justice' (SFJ) concurrently announced that a 'Kartarpur Convention' would be held in Pakistan during November 2019; for self determination by Sikhs, a separate nation for Sikhs, and liberating Punjab from India. Pakistan had already permitted SFJ to open an office in Karachi for promoting 'Referendum 2020'.Pakistan never gave up on its plan to destabilise Punjab.On June 28, 2019, Faridkot police arrested Sukhwinder Singh Sidhu on charges of spying for ISI since 2016. ISI recruited Sidhu on a visit to Sikh shrines in Pakistan (part of a jatha) in 2015.On ISI behest, Sidhu relocated near Moga Army Cantonment, reporting Indian Army troop movement and traction of Sikh separatist campaign among Punjab's Sikhs via social media platforms. Sikh pilgrimage routes and Gurudwaras in Pakistan have been displaying hoardings of 'Sikh Referendum 2020', Khalistani flags, and boards with names and photographs of Sikh radicals while Pakistan has been blatantly misusing four annual Sikh Jathas from India to Pakistan under the 1974 Bilateral Protocol of Visits to Religious Shrines. MEA says the issue has been raised time and again with Pakistan, since not only jathas from India are targeted for recruitment, Sikhs coming directly to Pakistan from Canada, UK and Germany are tutored for the referendum campaignfunded by Islamabad." Earlier, Talwainder Singh (2013), Sukhpreet Kaur and Suraj Pal Singh (2012), Naib Singh and Bhola Singh (2009) were arrested by Punjab Police for espionage activities atbehest ISI. Sikh Jathas are going to Pakistan for 7-10 dayssince 2004. According to security agencies, ISI recruits gullible youth in Jathas for espionage and to undertake terror attacks. Jagroop Singh, alias Rupa, who visited Pakistan with a Jatha in 2016 was given arms training under ISI tutelage by Pakistan-based fugitive Sikh militants Lakhbir Singh Rhode and Harmeet Singh.
The first India-Pak joint meeting was held on March 12 this year. With Kartarpur Corridor likely to be opened by November, India was concerned about Pakistan's intentions, especially since Gopal Singh Chawla was part of the Pakistani delegation for the joint talks slated for July 14 at Wagah border. India banned the SFJ before the talks as a signal to Pakistan. On July 13, Pakistan dropped GopalSingh Chawla from its delegation for the talks, terming it as a "goodwill gesture" – some cockeyed logic. Post the July 14 meeting at Wagah, S.C.L. Das, Joint Secretary, MHA, told media that difference have been narrowed down. Pakistan agreed to allow all Indian citizens and PIOs having overseas citizens of India (OCI) identity cards travel through the corridor. Pakistan side took note of dossier on activities of pro-Khalistan Sikhs in Pakistan handed over by India, India banning SFJ, and assured ouster of Gopal Singh Chawla from Pakistan's Sikh GurdwaraPrabandhak Committee.But Pakistan didn't respond to India's proposal not to charge any fee or introduce permit system for pilgrims. Technical teams of both sides would meet again to ensure seamless connectivity for the corridor. Pakistan agreed to construct an all weather bridge on their side instead of causeway after India pointed out causeway could flood Dera Baba Nanak (DBN) and adjoining areas.
India urged Pakistan to allow 10,000 additional pilgrims on the 550th birth anniversary of Guru Nanak in accordance with the 1974 Protocol but Pakistan cited infrastructure constraints. According to MEA, the Rs 500 crore passenger terminal complex at DBN, which can handle 5,000 pilgrims daily, will be completed by the October 31, 2019 deadline. The noteworthy issue is that Pakistan has no love lost for Sikhs. The Hindu-Sikh population in Pakistan has been reduced from 24 per centpost partition to 2 per cent; Sikh reduced to about 2000 only. Sikhs have been targeted and killed periodically, girls raped and killed and forcibly converted through marriage. Reports last year revealed British Sikh girls in UK too are being targeted by Pakistan-origin grooming gangs for sexual abuse and exploitation past decades. Surviving Sikhs in Pakistan may have been forced to make compromises and/or subjected to ISI's focused radicalisation.
There may also be some 'pseudo' Sikhs, for example, Devi Singh of Uttaranchal accused in sensational 2004 Burali jail break escaped to Pakistan and is under ISI tutelage disguised as a Sikh. Therefore, the original plan of Pakistani military to promote the corridor for terrorism is not going to change. Indian authorities feel that with pilgrims returning same day chances of them getting recruited are less. This is utter foolishness. There are many ways to not only make the 'targets' stay overnight or more and recruit them, especially since pilgrims would include unemployed, drug addicts including those handling the Indian side of Pakistan's drug supply, plus those with latent radical views not yet under security radar. Suffice to say India will need sustained caution once the corridor is opened.