The Farnborough skies were clear and a team of international journalists, including yours truly, were all set for a sortie on the heaviest airlifter of Boeing, the Globemaster C-17. However, that was not to be as the British authorities did not Ďclearí the flight. So we had to contend doing a tour of the static aircraft which was parked imposingly in the Boeing zone. Making up for the missed sortie, Tommy Dunehew, the Boeing Vice President, Business Development, Mobility, gave a run-down on the Globemaster C-17 which has done 2.3 million hours and still going strong. Here are the excerpts of an interview with SPís M.A.I.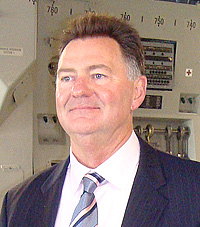 SPís M.A.I. (SPís): Is Boeing on schedule with regard to the C-17 deliveries to India?
Tommy Dunehew (Dunehew): We are on schedule and the first delivery will be mid next year. We have delivered so far internationally 244 aircraft and almost 200 of them we have either delivered ahead of schedule or on time.
SPís: Are they any specific modifications requested by the Indian Air Force on the C-17?
Dunehew: We do modifications, but they are limited. As for your question, you will have to ask the Indian Air Force. We have standard fits but if you look at our aircraft, they are top of the line with upgradations happening constantly. Every C-17 has the latest technology on it—updated satcoms, navigation systems etc. Most of the enhancements are on the software side which is very dynamic.
SPís: We are given to understand that the Indian Ministry of Defence is not going to go for additional C-17s. What do you have to say on that?
Dunehew: I am not aware of that. But let me tell you, once they get the aircraft, they will just love it and like all international customers will increase the order after a Ďhands-oní experience. Boeing will work towards creating that experience.
SPís: What is the market outlook for the Globemaster C-17?
Dunehew: We have an order backlog of 20 aircraft. We are talking to about six international customers with focus on the Middle East and Asia-Pacific. We have revised our production rate, bringing it down from 15 to 10 based on the market outlook. We will keep it at that as it is viable in the current economic situation. Yes, low production rate, job cuts are happening but we ensure that the aircraft is affordable.
SPís: How do you compare it with other similar aircraft or the A400M?
Dunehew: One, the Globemaster C-17 is a bigger aircraft. The airplane can fly long strategic distances with oversized cargo. It is very capable and very flexible. It can take-off and land on runways as short as 3,000 feet and semi-prepared ones. It is arguably one of the most efficient heavy airlifters, very reliable and low-risk. The C-17 is efficient and affordable and scores highly over the others.
SP's: What is unique about the aircraft?
Dunehew: Like I said it is very efficient and we have satisfied customers talking about the quick turnaround times and its airlift capabilities. We brought a Lakota helicopter on this to the airshow. Depending on the cargo, we have quick turnaround times with max up to three hours. As for troops, they are self-loading and we can fit in about 160 troops in double-quick time.