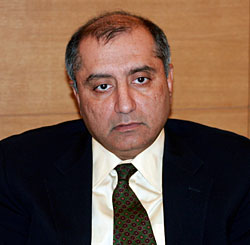 SP's M.A.I. (SP's): What is Configuration-3? What does it include?
Sanjay Kapoor (Kapoor): Basic Patriot Battalion Unit configuration consists of a multifunction radar, engagement control station, launchers (PAC-2 and PAC-3), an electrical power plant, Patriot missiles consist of a battery maintenance centre, an antenna mast group, small repair parts and large repair parts trailers, communication relay groups, and an information coordination centre.
Configuration-3 is enhancements to the selected hardware and software in the Configuration-2 Patriot system. Examples include but are not limited to improvements in search/detection/track capability, improved discrimination of TBMs, increased battlespace coverage, improved communications between battalions, enhanced lethality, remote launch and communication, launch point determination, joint TMD interoperability, enhanced launcher electronics and PAC-3 missile.
SP's: Patriot modular is under construction and thus can it be upgraded to counter future air threat?
Kapoor: Patriot system is considered very modular and is being constantly upgraded to improve its purpose and capability. Since Desert Storm, Patriot system has undergone multiple cycles of planned improvements to include QRP configuration, PAC-3 Configuration 1, PAC-3 Configuration 2 and PAC-3 Configuration 3. The US Army and international Patriot partners continue to identify new requirements for the system to be added as planned product improvement increments.
SP's: Does Patriot system fit into high to medium Air Defense of the US Army?
Kapoor: Patriot is classified as a lower tier ATBM weapon system capable of engaging the complete air defence threat set, including air-breathing targets (high performance aircraft and unmanned aerial vehicles), short and medium range tactical ballistic missiles and cruise missiles. Patriot is currently the only fielded weapon system that satisfies medium- to long-range requirements for the US Army.
SP's: What about its role as an anti-ballistic missile system?
Kapoor: Patriot provides a robust capability against short- and medium-range tactical ballistic missiles.
SP's: Which version of the Patriot missile system can perform the above roles?
Kapoor: Patriot employs a family of interceptors to permit TBM engagements with the most effective interceptor. The combination of GEM-T and PAC-3 missiles is needed to defeat various threats at various ranges.
SP's: Can Patriot engage UAVs?
Kapoor: Yes. Patriot has been tested and proven to be very effective against the UAV threats.
SP's: Can you give some details of the configuration of the Patriot system including its mobility, control elements and radars?
Kapoor: Patriot is considered a highly mobile air defence system. Its capability was successfully demonstrated during both Operations Desert Storm and Iraqi Freedom. It continues to support various air and missile defence missions around the globe.
Patriot battalion has various distributed control elements to coordinate the air defence mission. Information Coordination Central (ICC) correlates tracks, resolves conflicts, protects friendly A/C, assesses threats, assesses engagement priorities, and coordinates fire unit engagements. Higher echelon interfaces with other services provide early warning data, disseminate defence readiness conditions, evaluate air defence warning and weapons control status and protect friendly A/C. At the fire unit level, search, detect, identify, engage and destroy functions are carried out in the engagement control station.
The radar antenna is an electronically steered array. Patriot radar is made up of main array, auxiliary arrays, IFF antenna and track-via-missile array. The main array has the capability of search and track, missile track and command uplink capability. Patriot Multi-function Phased Array also includes auxiliary arrays for the side lobe cancellation, the IFF antenna to perform target identification functions and the track-via-missile array to assist in terminal guidance.
SP's: Indian Army needs both Quick Reaction SAM (QRSAM) and Medium Range SAM (MRSAM). Does Raytheon have plans to offer their systems to the Indian Army?
Kapoor: Raytheon, as an OEM, has indeed responded to both Air Force MRSAM and Army QRSAM and SRSAM RFIs with Patriot and HAWK XXI system solutions.
SP's: Is it possible for the Patriot system to combine the role of QRSAM and MRSAM as it will reduce the cost?
Kapoor: Patriot is a battle-proven system deployed globally for various air and missile defence missions. As stated earlier, it has been combat proven in support of both area and manoeuvre air defence missions. Specific weapon system solutions should be based on India's requirements and mission needs.