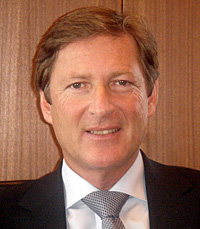 SPís M.A.I. (SPís): Can you tell us about your immediate plans for India and cooperation with Indian armed forces?
Norbert Ducrot (Ducrot): We have a wide range of products that are suited to meet the armed forcesí needs, as we showcased during Defexpo 2012. At this stage, we are still awaiting a decision from the Ministry of Defence (MoD) regarding the 197 reconnaissance and surveillance helicopter request for proposal (RFP), which has been ongoing for eight years now. We are very confident about the helicopter that we have proposed—the AS550 C3 Fennec, a new generation helicopter—fully meeting the Armyís and Air Forceís requirements. We donít foresee any reasons for further delays because the MoD has followed all procedures.
In this context, we are ready to extend our 40-year industrial relationship with local partners—from transfer of technology (ToT) and integration into Eurocopter global supply chain to setting up of production line, with a comprehensive training system to be established.
We already have a very successful partnership with HAL. Eurocopter/HAL licensed production has been the foundation of the Indian helicopter industry for the last five decades where over 600 Cheetahs and Chetaks have been produced. HAL is also part of the Eurocopter global supply chain for composite helicopter fuselages. In recent years, we expanded our cooperation with Mahindra and Mahindra and signed various industrial and commercial partnerships, including the production of the Ecureuil family airframes and customisation of civil helicopters in India. And of course, we also have a long-standing partner in Pawan Hans, who owns the biggest Dauphin fleet in the world and operates a Eurocopter-approved maintenance repair and overhaul (MRO) centre for Dauphin helicopters.
SPís: What capabilities did you showcase during Defexpo 2012?
Ducrot: In anticipation of the armed forcesí needs, we showcased the AS550 C3 Fennec, AS565 MBe Naval Panther and EC725 rotorcraft.
The AS550 C3 Fennec is proposed for the Army and Air Force in the 197 reconnaissance and surveillance helicopters (RSH) competition. For the Indian Coast Guard, we are proposing the AS565 MBe Panther (naval version) for their requirement for ship-based light/medium helicopters, and the EC725 for their shore-based helicopter need. The Naval Panther will also be proposed for the Indian Navyís anticipated acquisition of utility helicopters.
The AS565 MBe Naval Panther is service-proven at high availability rates with many of the worldís naval forces and coast guard services. It is an all-weather, multi-role light helicopter tailored for operations from ship decks, offshore platforms and land bases, with demonstrated capabilities to cover the entire range of Indian Navy and Coast Guard mission requirements—including maritime surveillance, search and rescue, offshore patrolling and counter-terrorism, casualty evacuation and vertical replenishment.
For the Indian Coast Guardís need for shore-based helicopters, Eurocopterís twin-engine EC725 offers a proven rotorcraft based on the Super Puma/Cougar family. With its all-weather capability, range, heavy-lift capacity and complete systems package, the EC725 delivers the combat search and rescue (CSAR) performance required by India.
SPís: Any important milestone/event you may like to refer to which would project your companyís interest in India strongly?
Ducrot: Eurocopter is the first international manufacturer to set up a full-fledged subsidiary in India in October 2010. With the HQ in New Delhi (HQ), it has expanded its footprint with presence now in other major cities such as Bangalore and Mumbai. The growth in staff strength will also see the percentage of Indian employees increasing in the coming years, which is already at 80 per cent of the total headcount now.
Eurocopter India is able to provide a full suite of support and services including spare parts supply and technical assistance to training, retrofits and customisation anywhere in India, with major Eurocopter-approved MRO centres in key cities of Mumbai, New Delhi and Bangalore, and a network of partners in smaller cities.
We also have many ongoing and upcoming industrial cooperations and investments, including ongoing industrial partnerships with HAL and the Mahindra Group, which will be expanded in scope in the coming years. We will also set up an Engineering Centre in Bangalore by next year. We are always on the look-out for potential industrial and commercial partnerships, as we are in the country for the long haul.
SPís: How would you rate the potential in India versus other Asian countries?
Ducrot: We estimate the Asian military helicopter market to be valued at about $15-20 billion for the period till 2020, and we expect the largest contributor to be India (estimated at 50 per cent). India is also the largest defence market in Asia. We are participating in various RFPs and our helicopter range covers the requirements of the Indian Army, Air Force, Navy and Coast Guard.
Taking into account the civilian market as well, Asia is the largest and fastest-growing region where we anticipate a 20 per cent year-on-year growth. India and China are undoubtedly the two major economies that are very important and are expected to be significant contributors in the years to come.
SPís: What kind of future do you foresee with India in next the 10-20 years?
Ducrot: There are around 270 turbine engine commercial helicopters in India today. There was an overall slowdown in the Indian helicopter sector in 2010 and 2011, but we can see a recovery in 2012 with an annual growth rate of about 20 per cent. Hence we can expect to see more than 500 civil helicopters in India by 2015.
The Indian market has huge potential and will be one of the most important growth markets in the world because of (1) size of the country; (2) growth of the economy; (3) diversity in its terrain and the geographical constraints; (4) lack of road/train infrastructures. Currently, growth of the commercial use of helicopters is limited by the regulations and level of taxes imposed.
The main segments currently doing well are oil and gas and passenger transport (charter, private, business and governmental). Segments that we are developing and are foreseen to have growth potential include: utility and aerial work, helicopter emergency medical services (HEMS) and law enforcement.
Eurocopter is poised to contribute to the helicopter market growth in India because it has the widest range of helicopters to cater to different needs and segments. We constantly innovate to produce enhanced versions that can handle hot and high conditions even better, which is a unique challenge in India. For specific segments like HEMS and utility/aerial work, Eurocopter has an impressive record. Eight out of every 10 HEMS helicopters in the world are Eurocopter products; while 70 per cent of helicopters delivered in the last 10 years globally for utility/aerial work are Eurocopter products. With the in-country presence of our Indian subsidiary, we can provide proximity services to ensure high availability of the aircraft and cost-efficient support and services.