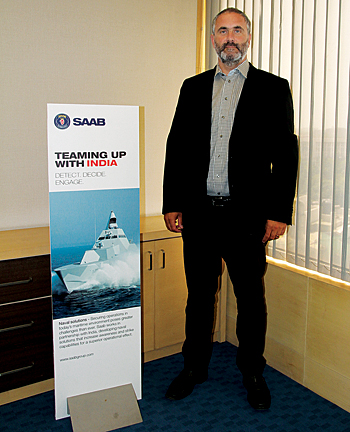 SP's M.A.I. (SP's): In India, Saab has been around for a long time in defence and civil applications. Which business is growing for you?
Jan Widerstrom: We have been around for quite some time. However we started focus on India as a market from 2006. We opened this office in 2007-08. Prior to that, we also did business in India on a case-tocase ad hoc basis. We have been here from day one but the focus on India as a market started in 2006. In the beginning we were looking at civil security which they now call it smart security. Going back five to seven years, that market was very distributed. It was difficult to find and identify as a foreign OEM to identify the business opportunities.
Last time it was the Commonwealth Games (CWG) and security system was supposed to be big. But what actually happened was the CWG bought cameras from one guy, scanner from second and got the wiring done by the third guy. For us it was not an opportunity. However, in niche areas like airports and harbours, we are supplying complete transponder and sensor systems including the automatic identification system (AIS) transponders for the Indian coastline. Within certain niche areas we have been successful and that includes ground surveillance systems for airports. We have got quite broad portfolio of products and solutions for airports.
We see tremendous scope in the defence. We are growing. We are looking at the Defence Procurement Procedure (DPP) and 'Make in India' movement which I believe is a very big step forward. It creates an enabling environment on how to get the Indian defence industry moving, how to grow the indigenous capabilities. The new 'Make in India' concept is creating a platform for the foreign OEM to partner with both public and private sector. You cannot force a foreign OEM to do business when it does not make business sense. Now they are creating an attractive environment and the OEM can partner with an Indian company and export globally. It is a big difference.
SP's: Recently you won a programme for the Airports Authority of India for deployment of surface movement guidance and control systems. Could you give details of the same and will there be any more deployment?
Widerstrom: We are in nine airports. It is sure one of the focus areas. The airport market is growing rapidly in India. We see a growth in the airport business and growth opportunities in harbour security and management systems.
The rapidly increasing air traffic and seasonal fog conditions for example unique to New Delhi created flight delays and cancellations at India's second busiest airport, the Indira Gandhi International Airport (IGI). To safely accommodate almost 24 million passengers a year, the Airports Authority of India (AAI), the air navigation service provider for IGI, needed to provide air traffic controllers with a reliable, accurate picture of the airport surface traffic in extreme weather conditions. To safely deliver high levels of airport movement, AAI deployed Saab Sensis Corporation Advanced – Surface Movement Guidance and Control System (A-SMGCS), improving operational efficiency and providing accurate surveillance in all weather conditions.
In addition to airports in India, A-SMGCS was also selected for Brisbane, Melbourne, Perth and Sydney airports in Australia, Ben Gurion International Airport in Israel, Hong Kong International Airport in China, King Abdulaziz International Airport and King Fahd International Airport in Saudi Arabia and 35 airports in the United States.
In maritime traffic management and port security we have a strong presence. The AIS in India was installed in 2012. We have 85 base stations (lighthouses and towers), seven regional headquarters, two control centres (Mumbai and Visakhapatnam), providing the Indian Navy, the Indian Coast Guard and the port authorities, effective solutions.
SP's: Do you have any solutions for the Smart Cities?
Widerstrom: We are monitoring the Smart City movement which is now hyped in India. We are looking at what would be the actual evolution.
For the Smart Cities we have various products and solutions in surveillance, monitoring, smart software, etc. We have smart software which on low-tech camera can give very high quality imagery, and that is extremely efficient. Also we have software to upgrade the existing cameras. We are currently in the monitoring state and looking at where the Smart Cities concept is heading. I had an interesting meeting with the head of L&T recently in Stockholm and find that they are doing a lot. It was interesting to hear how they have been managing the market. We have the products and the capabilities.
SP's: Could you give the details about the Aerostructures Assemblies India, having rolled out the first batch of A380 structural assemblies from Belgaum? What is the order like and will there be any more work for Airbus from Belgaum?
Widerstrom: We have a joint venture, Aerostructures Assemblies India, with Aequs in Belgaum in Karnataka. AAI makes aerostructure assemblies for Saab, for our Boeing and Airbus programmes. It is a terrific success story. We built it up in 18 months from nothing. One of the best answers on the project came from a Swedish product manager who said that the quality at AAI is better or as good as what we get back in Sweden. It is at less cost but same or better quality. We export to both Boeing and Airbus from that facility and I see tremendous growth there.
SP's: Would you be part of the India Aviation event in Hyderabad next year?
Widerstrom: Yes, we are going to participate in India Aviation.
SP's: Way back in 1974 Saab sold Carl-Gustaf to India. Have you any plans to provide India with modern anti-tank systems?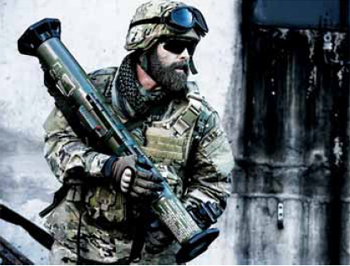 Carl-Gustaf M4 a man-portable multi-role weapon system
Widerstrom: We are extremely proud of the Carl-Gustaf systems. It is the backbone of the Indian Army today and we are constantly developing that. The latest version is Carl-Gustaf M4 a man-portable multi-role weapon system that provides high tactical flexibility through its wide range of ammunition types. It is lightweight with more intelligence and better performance. The ammunition is also new and with better performance. It is a global success story. India is one of our important customers. We have a licence agreement with ordnance factories and we work closely with them and are further developing our relationship with ordnance factories.
SP's: What are your plans for airborne subsystems like Integrated Defensive Aids Suite and headup display?
Widerstrom: On the Integrated Defensive Aids Suite (IDAS) we have recently got an order. That is a cooperation we have with HAL (Hindustan Aeronautics Limited). It is top priority for us to develop that business and work more closely with HAL. We are setting up production and creating production hub in India for that system globally. We have started to build up the capability. The plan is to move production to India and we hope we can accomplish that in the near future.
SP's: With the cancellation of the tender for 126 Rafale medium multi-role combat aircraft (MMRCA) for the Indian Air Force, do you see any possibility of the Saab Gripen re-emerging on the scene as a possible option for the Indian Air Force?
Widerstrom: With all respect for the Indian Air Force, there is tremendous need for more aircraft in India for sure. Now that they have closed the MMRCA deal and finalising 36 Rafale aircraft instead of 126, we still see opportunities. Our message to the IAF in the last two to three years has been: "Yes, we have extremely good product." India needs aircraft in big numbers as a replacement of the older aircraft in the fleet. We have a perfect solution and we respect the processes. They are busy on finalising the deal with the French. We are here and we are ready to answer any questions that the IAF or anybody else has.
'Make in India' is good news. It creates an environment for us to do good business. It is a winwin. We can do it with Indian industry and with long-term perspective. We can export out of India to Sweden or Australia or anywhere in the world.
SP's: How does the Gripen compare with the Dassault Rafale in performance? Do you feel that the Gripen would be able to fulfil the requirement of the Indian Air Force for an MMRCA?
Widerstrom:
Rafale is a bigger aircraft and yet the Gripen can do whatever the Rafale can do. The latest Gripen aircraft is a modern aircraft, latest generation. We are waiting for the final signature from the latest success in Brazil. It is an ongoing development. It is a small aircraft but as capable as the Rafale. If we get the possibility to deliver Gripen to India then it would be in line for the 'Make in India' programme. We are prepared to produce and manufacture here, whether it is fighters, missiles or air defence systems or anything. We are looking forward to the 'Make in India' programme. The major differences between us and some of our competitors is that our global strategy is that our home market is where we do business and it is not Sweden. We as a small nation are more flexible. Whether it is India, South Africa, Europe, US or Australia, we see ourselves as a global industry rather than a Swedish company.
'Make in India' is good news. It creates an environment for us to do good business. It is a win-win. We can do it with Indian industry and with long-term perspective. We can export out of India to Sweden or Australia or anywhere in the world. I am really looking forward to this.
SP's: Saab has formed joint ventures/partnerships with various Indian companies. Could you give an update on the programmes in these joint ventures? Is Saab planning any more joint ventures and in which areas?
Widerstrom: Other than the joint venture with Aequs, we have in India an R&D centre in Hyderabad. It is a cooperation agreement with Tech Mahindra and we are outsourcing R&D from Sweden and Australia to India. The centre has about 200 employees and in total we are 350 across India. It is a very good success story. That is going to be a growth story as well. We as a company are investing 25 to 30 per cent of turnover into R&D and our company is unique globally in that respect. We need to do that to be ahead of not the biggest but the best and have technology edge. Portion of that goes to India cursrently by utilising the huge bank of talent of people who have Master degrees and Phds. The engineering bank in India is tremendous. As part of the 'Make in India' programme, it is important that we make investment not just in companies but also in the right resources and education/training is one of them.
Saab has acquired 3.3 per cent of the shares in Pipavav Offshore and Defence Engineering Ltd, at an investment of MSEK 250 (around Rs. 235 crore). The investment offers a solid platform for growth for Saab in the Indian market. Today Saab and Pipavav work closely together in developing the next-generation Combat Management System (CMS), addressing the current and future needs of the Indian Navy and Coast Guard. Leveraging off of the previous work done with combat systems engineering, the joint effort aims to deliver a scalable CMS for all purposes, providing the Indian operators with superior situational awareness. The naval market is one of the bigger activities.
We have a sourcing office in Bengaluru, where employees from our Aerostructures division manage our ongoing relationships with partners such as Cim Tools, Aequs and Tata Advanced Materials.
SP's: How do you rate the skillsets in India?
Widerstrom: I would say as good as back home. The experience in Hyderabad is very good. It started small and now it is gaining momentum and everyone back home sees it is good value for money. This will grow as developing civilian and IT infrastructure will take time.
SP's: Does Saab have any collaboration with the European, American or Israeli aerospace industry for the manufacture of aircraft for military use as well as the onboard systems?
Widerstrom: Yes we have worldwide collaborations. Gripen as such consists of number of major subsystems. We have an American engine, we have cooperation with Selex on the radars. One of the advantages with the Gripen system is that we are not forced to go to one or two nations. For instance, if we are going to manufacture in India with indigenisation of the aircraft, it is going to be easier than other older aircraft because of the Gripen's modularity and design. Gripen is a huge global collaboration and it contains subsystems from all over the world. If we sell it to South Africa, they have their requirements, if we sell it to Thailand, they have theirs, or to Czechslovakia, they have their systems. It is one of the key features as it is extremely modular in design and easier to adopt to global requirements. As a major aerospace player we are collaborating with a number of companies in a number of fields.
SP's: What are your plans to promote your business interests in the Asia-Pacific region?
Widerstrom: Currently we have integrated India into the Asia-Pacific region. Across the globe we have five different market areas and Asia-Pacific is one of them with India, Japan and New Zealand among other countries. The advantage of this that cooperation between Asia and Pacific countries is growing and we can tap on resources. We are in Korea and India and we have the advantage of setting up production either in Korea or India or vice versa. We are closely integrating the Asia-Pacific market. We are trying to look upon it as one market, especially in the naval domain we see one big opportunity and advantages. We see Indian Navy buying Korean ships.
SP's: Tell us something about the Nobel week?
Widerstrom: I am proud to say that I was part of the team which created this about 9 years ago. Nobel is such a good brand. It is such a strong name and people around the world would know Nobel more than they would know about Sweden. The Nobel week has been a success and we have backed it. It is about research and technologies and for us it is a perfect match. There are companies such as ABB; Ericsson, Atlas Copco and Volvo and together we can show a strong front with the Swedish industries. They are global industries. For instance, the Volvo in Bengaluru is mistaken to be an Indian company and that is good for us. Five years from now, I believe that same will happen with Saab. The focus of this year's Nobel week would be Smart Cities. Ericsson will be there so also us and we will be tapping around Nobel and the values surrounding that. For the Swedish community in India it is something they can look forward to.
The Nobel week is unique to India and it is carefully handled by the Nobel Committee. We are the only one doing this programme.
SP's: Saab is engaged with the CSR activity, please elaborate?
Widerstrom: We have a school in Vijayawada and we are looking into expanding the programme. We are looking into several other areas, vocational training, support Indian college students, etc. We also have scholarship for two years for university study. We have a skills training programme, DEEP (Diploma Employment Enhancement Programme) designed to enhance employability of engineering graduates. It is hosted by colleges in Gudivada and Kakinada in Andhra Pradesh. The six-month Saab DEEP programme is designed to help engineering students learn and hone the right mix of technical and soft skills while they are still in college. The curriculum involves classroom training and a two-month on-the-job training and internship.