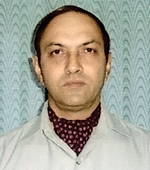 India and the United States have signed an important logistics agreement that will enable forces of both the countries to use each other's bases for repair and replenishment of supplies. US Defense Secretary Ashton Carter and Defence Minister Manohar Parrikar formally signed the Logistics Exchange Memorandum of Agreement (LEMOA) on August 29, 2016.
What is LEMOA?
This agreement is not the same as the one signed by nearly 100 countries some of whom are seen as close military allies of the US. That agreement is called Logistic Support Agreement (LSA). However that failed to pass muster with the two previous UPA regimes and even the Modi Government, on taking over, was sensitive to its content. As the Indian Government insisted on various changes to address concerns of unfettered access and US military bases on the Indian soil, the text was amended and the agreement was renamed LEMOA. It has been specially drafted and designed for India due to the apprehensions expressed by the Indian Government.
It has taken more than 12 years for LEMOA to become a reality. LEMOA will enable both the nations to access supplies, spare parts and services from each other's land facilities, airbases and ports, which can then be reimbursed. However, the signing of the LEMOA does not give automatic access to the use of military bases.
In April this year, when Carter visited New Delhi, the two sides announced an in-principle agreement on inking the pact. Hectic negotiations between the two sides had taken place before that visit, with US officials submitting drafts of three foundational agreements. However, India chose to proceed only on the logistics agreement (LEMOA), deferring the Communications and Information Security Memorandum of Agreement (CISMOA) and a Basic Exchange and Cooperation Agreement for Geospatial Information and Services Cooperation (BECA).
What has Pushed India into Signing this Agreement?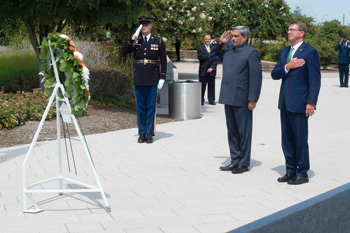 Defense Secretary Ashton Carter and Defence Minister Manohar Parrikar at the 9/11 Pentagon Memorial on August 29, 2016
Since the Cold War ended and the erstwhile Soviet Union broke up the Indian foreign policy has undergone a complete makeover. Though India's nuclear tests of 1998 brought it sharp rebuke from the United States and many other nations, things started improving after a visit from the then President Bill Clinton in 2000. The USIndia civilian nuclear deal of 2008, for which Prime Minister Manmohan Singh staked his political future, further changed things.
The United States also helped India get a waiver from the Nuclear Suppliers Group (NSG), even though India has not signed the Nuclear Non-Proliferation Treaty (NPT) or the Comprehensive Nuclear-Test-Ban Treaty (CTBT).
India and the United States are increasingly concerned about Beijing's growing aggressiveness in the South China Sea and beyond. India's annoyance with China for preventing India's attempts to designate the Pakistan-based terror outfit Jaish-e-Mohammed's chief Maulana Masood Azhar as a terrorist at the UN is not hidden. Moreover China's military, including nuclear assistance, to Pakistan has emboldened Pakistan in being more belligerent towards India as far as the proxy war in Jammu and Kashmir is concerned. At the same time, China has been going all out to woo countries in India's neighbourhood like Nepal, Sri Lanka and Maldives.
Beijing's island building activities in the South China Sea and its deployment of missile batteries on Woody Island in the South China Sea have set it on a collision course with the United States and its allies in the region, like Japan and the Philippines.
In 2015, President Barack Obama became the first President to visit India twice during his presidency when he was the chief guest at India's Republic Day celebrations on January 26. During his visit, the two sides released a joint statement where they affirmed "the importance of safeguarding maritime security and ensuring freedom of navigation and over flight throughout the region, especially in the South China Sea." This in itself is very significant since New Delhi had studiously avoided getting entangled in the South China Sea imbroglio.
In the recent years, India has become one of the biggest purchasers of US military hardware, a sea change from the times when the country used to source the majority of its defence needs from Russia.
By signing the LEMOA, New Delhi comes closer, strategically, to the US which will have a number of spin-offs in terms of technology transfer and modern weaponry that India is looking for apart gaining access to US military facilities and closer military cooperation
India now aspires to play a greater role in international affairs. India desires to be a permanent member of the United Nations Security Council (UNSC). In addition, India, under Prime Minister Narendra Modi, has rapidly moved away from its traditional stance of nonalignment to one of multi-alignment. By signing the LEMOA, New Delhi comes closer, strategically, to the US which will have a number of spin-offs in terms of technology transfer and modern weaponry that India is looking for apart gaining access to US military facilities and closer military cooperation.
LEMOA will enable increase in India's outreach to areas that were not typically within its reach. With one aircraft carrier in operations, India's capacity to undertake far sea operations has been fairly limited. Signing LEMOA opens up opportunities such as gaining access to US military bases in Djibouti and Diego Garcia and these are indeed significant gains.
What is in it for the US?
The US has already made strategic plans for rebalancing its forces between the Atlantic and the Pacific Oceans. This strategy is one part of the much larger "pivot" to Asia intended by President Obama to meet a rising China. The US Navy plans to deploy 60 per cent of its surface ships in the Indo-Pacific region. Instead of having to build new facilities, as in Afghanistan and Iraq, the US has the benefit of simple arrangements for the substantial Indian facilities.
Maritime collaboration between India and the United States has been increasing. The commander of US Pacific Command Admiral Harry B. Harris went on record to say that Beijing was building "a great wall of sand" in the South China Sea. At the Raisina Dialogue in India in March this year Admiral Harris floated the idea of cooperation between India, Japan and Australia in the maritime realm. This is similar to the earlier 'Quadrilateral Initiative,' which was rolled back in the light of protests from Beijing. In the meanwhile, India's ties with US allies in the region, like Japan and Australia, have also improved substantially since then.
ISIS recently carried out a terror bombing in Bangladesh. There is always a danger of ISIS making a substantial ground effort in this region, not on the scale of their 'caliphate' in Syria and Iraq, but perhaps similar to their effort in Egyptian Sinai and Libya? Having LEMOA makes it much simpler for American naval and air forces to refuel, resupply and so forth. The US does not have actual bases in India. But LEMOA is a simple way to use India's bases without stationing any troops on the ground.
Defense Secretary Carter, in the joint news conference on August 29, 2016, after signing the agreement, said the agreement would make joint operations between their militaries logistically easier and more efficient. "What it does is make possible and make easier operating together when we choose to. It doesn't by itself — those agreements — those are the things that the two governments would have to agree on a case by case basis. But when they do agree, this is an agreement that makes it all go so much more smoothly and efficiently," he said. He further stated: "It is fully mutual. In other words, we grant one another completely equal access and ease under this agreement. It's not a basing agreement of any kind, but it does make the logistics of joint operations so much easier and so much more efficient".
It does not give the US automatic access to Indian military bases or to logistical support, but simply smoothens existing practices. The advantage is that though the US does currently use Indian military bases and logistics – for example, during joint military exercises – this is managed on a case by case basis, which is simply more cumbersome. LEMOA makes the process more regularised.