India and Turkey have differences over the status of Kashmir and Northern Cyprus, but that has not stopped the two nations from strengthening relations. Both nations believe that economic and trade relations can be more comprehensive and India believes that economic-relations can help in weaning away Turkey from Pakistan.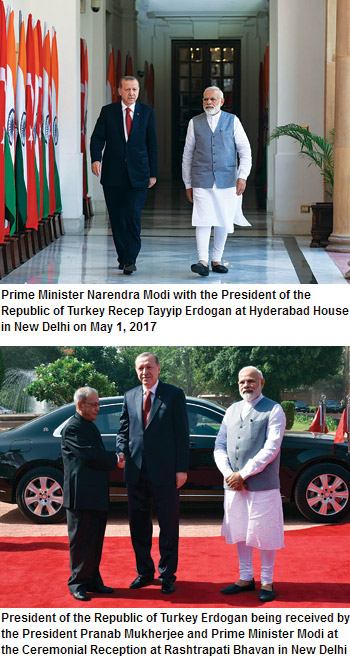 Knowing fully well that Turkey is a staunch ally of Pakistan and supports the country on the issue of Jammu and Kashmir, why did India invite the President of Turkey Recep Tayyip Erdogan on a state visit? Certainly, both the sides did not expect the visit to be transformational in Indo-Turkish relations. India's stand on Northern Cyprus and Turkish stand on Jammu and Kashmir have been the principal stumbling blocks in developing closer political and strategic relations between the two nations.
Also the recent domestic events in Turkey has also added to the coldness in bilateral relations as Turkey wants deportation of the Fethulla Gulen Group members residing in India as Turkey describes them as terrorists. However, in spite of these constraints, both sides displayed enough warmth so as to move the relations in a positive direction. Both India and Turkey want normal relations as they enjoy close, friendly and deep rooted ties dating back to several centuries. There are rich historical and cultural connections between the two countries in the field of art and architecture. Diplomatic relations between India and Turkey go back to over 70 years. A senior official said that regular high level exchanges have strengthened the bilateral ties.
Both feel that the within the realm of differences over Kashmir and Northern Cyprus, both the nations can deepen the economic and trade relations more comprehensively. In spite of differences Turkey and India enjoy close economic relations. Bilateral trade between the two countries stood at $6.4 billion. India's main exports to Turkey are textiles and fabrics, chemical, pharmaceuticals, plastic products, machinery and automotive. There is scope for cooperation in other areas such as construction, infrastructure development, renewable energy, tourism and film shooting.
The fact that Erdogan made a second visit to India from April 30 to May 1, 2017, after 2008 speaks of the importance Turkey attaches to its relations with India. Both are members of G-20 group of developed and developing economies.
This is why the Indian Prime minister exhibited extra courtesy by accompanying the Turkish President to the joint industry chambers meeting and emphasized on the importance of strengthening the economic relations. Naturally the focus of the talks was on enhancing the bilateral trade and economic relations to the level of $10 billion by 2020 from the present level of $6.4 billion. India believes that the best way to wean Turkey away from the clutches of Pakistan is to economically bind the two nations, and drive a wedge between the two Islamic nations.
Reference to crossborder terrorism was a significant support from Turkey to India. Probably this was the biggest takeaway for India from the visit of the Turkish President
Turkish anger over India's policy on Armenia and Cyprus is well known. Was it a mere coincidence that just before Erdogan's visit to India, Vice President Hamid Ansari was sent on a State visit to Armenia and the President of Cyprus enjoyed State hospitality in India? Turkey has similarly retaliated by siding with Pakistan since long. Turkey was also not satisfied with India's response on Turkish demand to take action against the Fethullah group members living in India. But Turkey now realizes that it will not be in its long term interest to keep aloof from India in the economic sphere.
Though Turkey stuck to its pro-Pakistan stance on Kashmir by advocating multilateral talks for resolving the Kashmir issue, India did succeed in cajoling Turkish President to speak the same language on terrorism. Probably, this will irk Pakistan as the Turkish leader talked tough on terrorism by agreeing with India on the need to dismantle the infrastructure of terrorism and asking Pakistan, without naming, to stop being a state sponsor of terrorism. Significantly, Turkey agreed for the early conclusion of the negotiations on the comprehensive convention on international terrorism, proposed by India almost two decades ago.
The joint statement issued after the talks explicitly condemned the double standards on terrorism and reiterated their "strong condemnation of and resolute opposition to terrorism in all its forms and manifestations, wherever committed and by whomever, and declared that there could be no justification for terrorism anywhere. Both sides urged all countries and entities to work sincerely to disrupt terrorist networks and their financing, and stop cross-border movement of terrorists." Reference to cross-border terrorism was a significant support from Turkey to India. Probably this was the biggest takeaway for India from the visit of the Turkish President.
Another big takeaway was obtaining Turkish support on India's membership of the 48 nation Nuclear Supplier Group, though Turkey also wants similar privilege to Pakistan. Turkey also welcomed India's accession to the Missile Technology Regime. Turkey also extended significant support on India's application for Wassenar arrangement.
As far as the issue of permanent membership of the United Nations Security Council is concerned, Erdogan expressed the need for urgent reforms to reflect the realities of the 21st century. Though the joint statement does not mention explicit Turkish support for India's membership, Erdogan while addressing the Jamia Millia university which conferred a doctorate degree, strongly supported India's permanent membership. "The UN Security Council should be reformed. India has a population of 1.3 billion and yet it is not a part of the Security Council. Do you think this is a healthy system? A total of 1.7 billion people live in the Islamic world but they are not being represented in the Security Council. Only five members of the Council are deciding the fate of the entire world which is not fair."
Perhaps Indian interlocutors have been able to add new glues to India-Turkish relations, which will cause consternation in the Pakistani diplomatic circles. Probably, India's principal strategic aim seems to have been achieved by putting emphasis on bringing India and Turkey closer in economic arena , which will help cement the relations in strategic sectors in the coming years.

(The writer is a strategic analyst)