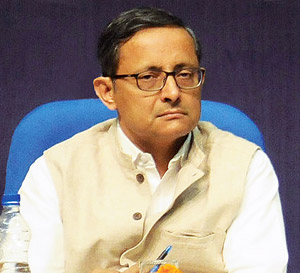 The government on May 10 approved the appointment of West Bengal cadre and 1982 batch officer Sanjay Mitra as the next Defence Secretary with a fixed tenure of two years. Mitra, who was holding the charge of Secretary in the Ministry of Road Transport and Highways till now, has been appointed officer-on-special-duty in the defence ministry and will assume charge on May 24 when incumbent G. Mohan Kumar retires.
Mitra had earlier had a seven-year stint in the Manmohan Singh-led Prime Minister's Office (PMO) from 2004. He was also the Chief Secretary of West Bengal with Mamata Banerjee appointing him as predecessor Samar Ghosh refused to continue as the Chief Secretary after serving for six months post superannuation. Mitra became the State's Chief Secretary in October 2012 by superseding a number of senior IAS officers.
Before being posted as the state Chief Secretary, Mitra worked as a Health Secretary and as a Joint Secretary in the PMO.