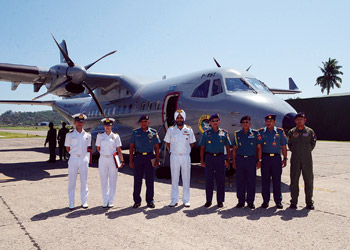 The 29th series of India-Indonesia CORPAT commenced from May 9-25, 2017, with the opening ceremony being conducted from May 9-12, 2017 at Port Blair under the aegis of Andaman and Nicobar Command. The Indonesian Naval Ship KRI Sutedi Senoputra has arrived at Haddo Wharf, Port Blair to mark the commencement of the 29th series of Ind-Indo CORPAT on May 9. An Indonesian maritime patrol aircraft also flew in with the Indonesian Naval delegation led by First Admiral Bambang Irwanto to INS Utkrosh, Port Blair. First Admiral Bambang Irwanto called on Major General P.S. Sai, Chief of Staff, Andaman and Nicobar Command and the delegation also interacted with Commodore Ashutosh Ridhorkar, the Naval Component Commander.
During the stay at Port Blair from May 9-12, 2017, the visiting crew shall be engaged in interactions at various strata, including sports fixtures, ship visits, professional interactions and visits to places of historical and tourist interests. The closing ceremony of the CORPAT is scheduled at Belawan, Indonesia from May 22-25, 2017.
The close defence relations between India and Indonesia have been growing steadily with regular joint activities and exchanges of personnel between the armed forces of the two countries. Under the broad ambit of this strategic partnership, Indonesian Navy (TNI AL) and the Indian Navy have been carrying out coordinated patrolling twice a year since 2002 near the International Maritime Boundary Line to keep this part of the Indian Ocean region safe and secure for commercial shipping and international trade.