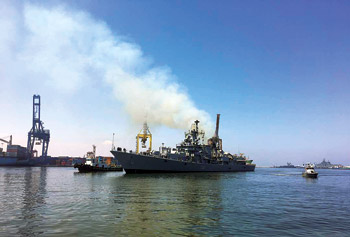 As part of the Indian Navy's overseas deployment (OSD) to the Mediterranean Sea and the West Coast of Africa, two Indian warships, INS Mumbai and INS Aditya, were on a three-day visit to Alexandria in Egypt from May 5. The warships engaged extensively with the Egyptian Navy.
With governments of both countries keen on sustaining strong diplomatic ties, the current visit seeks to underscore India's peaceful presence and solidarity with friendly countries and, in particular, to strengthen the existing bonds of friendship between India and Egypt.
Indian Naval assets have been increasingly deployed in recent times to address the main maritime concerns of the region, including piracy off the coast of Somalia. In addition, the Indian Navy has also been involved in assisting countries in the Indian Ocean Region with Hydrographic Survey, Search and Rescue and other such capacity-building and capability-enhancement activities. The current deployment into the Mediterranean will contribute towards the Indian Navy's efforts to consolidate Inter Operability and forge strong bonds of friendship across the seas.
The visiting ships were part of the Indian Navy's Western Naval Command and are based in Mumbai. The Task Group is headed by Rear Admiral RB Pandit, the Flag Officer Commanding Western Fleet.