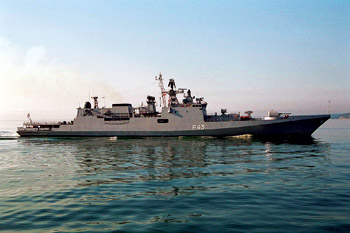 As part of the Indian Navy's overseas deployment to the West Coast of Africa and the Mediterranean Sea, three Indian warships, INS Mumbai, INS Trishul and INS Aditya, visited Jeddah for three days. The warships engaged extensively with the Saudi Arabian Navy during their stay in the country. The deployment saw professional interactions, sports and social engagements g towards enhancing co-operation and understanding between these important navies of the Indian Ocean region (IOR).
The visiting ships were headed by Rear Admiral R.B. Pandit, the Flag Officer Commanding Western Fleet (FOCWF) who was flying his flag on the guided missile destroyer INS Mumbai.
India and Saudi Arabia enjoy cordial and friendly relations, reflecting centuries old economic and socio-cultural ties. Bilateral trade between the countries has shown remarkable growth and has registered a three-fold increase in the last five years. The 1.8 millionstrong Indian community in Saudi-Arabia is the largest expatriate community in the Kingdom and is the 'most preferred community' due to their expertise, sense of discipline, and law abiding nature. The Haj pilgrimage is another important component of the bilateral relations with over 1,65,000 Indians performing Haj every year.
Building upon the rich and longstanding relations that have existed between India and Saudi Arabia, both nations have developed warm relations in several spheres. The current visit seeks to underscore India's peaceful presence and solidarity with friendly countries of the Indian Ocean and, in particular, to strengthen the existing bonds between India and Saudi Arabia.